Setting the right marketing objectives is a critical part of positioning your company for success as a new year begins. Ideally, these should be SMART goals – those which are specific, measurable, achievable, relevant, and time-bound. In that sense, enhancing your omnichannel marketing strategy using local inventory ads (LIAs) may be the smartest goal of all.
Even amid ongoing economic turbulence and supply chain disruption, for example, it's easy to see how using LIAs aligns perfectly with the SMART goal framework:
Specific
Rather than run campaigns focused simply on the broadest possible reach, Google Shopping Local inventory ads allow you to target specific products at the consumers who are searching within the vicinity of your physical locations.
Measurable
As retailers who have already worked with Highstreet.io to implement LIAs have learned, the results of these campaigns can be directly attributed to critical marketing metrics (more on that below).
Achievable
With a partner like Highstreet.io, LIAs can be set up and run without adding to the workload of marketing teams who already have enough on their plates. Using product feed management to power LIA campaigns can reduce manual and repetitive tasks.
Relevant
LIAs are relevant to any retailer that wants to increase revenues and lower their costs of acquiring customers. As for shoppers, LIAs represents the most relevant marketing imaginable because they only see what's in stock.
Time-bound
When you've optimized your product feeds for LIAs, they can change as frequently as necessary to ensure available inventory is always front and center in search results.
Making the Most of Google Shopping Local Inventory Ads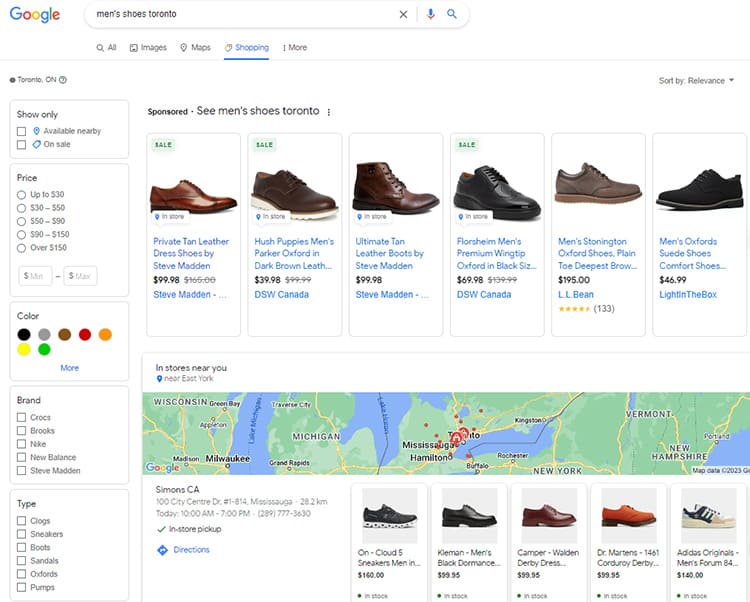 As a trusted Google partner, Highstreet.io has a proven track record in helping online sellers maximize their marketing budget and deliver increased value for their business.
No question that taking a local approach to omnichannel marketing is essential. According to recent research, 81% of consumers used Google to evaluate local businesses in 2021, compared with 63% the year before.
If Google Shopping Local inventory ads are new to you, here are three best practices to consider as you get started:
1. Identify the metrics where LIAs can move the needle
Ultimately, marketing is about enticing customers to make a purchase and encouraging them to come back again. LIAs allows you to analyze results at an even more granular level, however. While the metrics that matter can vary from one business to another, some of the common areas where LIAs have proved transformative include:
Average increase in online conversation rates
Increase in mobile sales
Increase in-store visits
Lower cost per store visit
Lift in in-store visits at a constant store visit rate
Lift in offline revenue from traffic driven by local inventory ads
Increase in return-on-ad-spend (ROAS)
As 2023 begins, talk with your team about where you'll want to focus in terms of monitoring marketing performance and talk to experts like Highstreet.io about how to act upon the data.
2. Optimize marketing for the complete customer journey
For some consumers, the path to purchase is pretty linear. They look for an item they want on Google, see a local inventory ad showcasing the product they want, then visit a nearby store to buy it.
In other cases, shoppers will place orders online and reserve items to be picked up later. Some consumers will be shopping on their smartphones while they're already in a store, comparing pricing and selection among competing brands.
LIAs offer options to tailor your marketing based on all these journeys, and others. You can promote inventory that can be conveniently picked up on the same day, for instance, or "pickup later" items that will show up in search results with the specific date they're available.
LIAs can also help guide customers toward their preferred fulfillment experiences, whether it's buying online, pickup in-store (BOPIS), click-and-collect, and more.
3. Build a Google Shopping Local Inventory Ads partnership to keep your business competitive
LIAs have evolved considerably since they were first introduced, and Google continues to provide additional features and functionality.
In the past year, for example, the company has begun offering formats such as navigational ads that are shown when drivers are using Google Maps. "Similar Places" LIAs, meanwhile, can ensure your stores show up when consumers are looking for products at a competitor that has closed for the day.
The most valuable marketing partnership is therefore not limited to providing a seamless process for setting up LIAs, onboarding, and offering support. Instead, successful retailers work with Highstreet.io to explore new opportunities to fine-tune campaigns based on new formats, features, and the unique needs of each business.
Learn more about how to use LIAs to make 2023 your most successful year yet – online, offline, and everywhere in between. To get started, contact us and speak with a feed management professional today.