When it comes to attracting local customers to brick-and-mortar stores, the competition is fierce. Especially when more shoppers are starting their research online.
Studies have shown that the vast majority of people (around 97%) find out about local businesses on the Internet.
Considering that local customers are most likely to visit your physical shop, it makes sense to focus on attracting these clients to your store location as they are browsing online. So why not give it a try?
The Value of Local Inventory Ads
Local Inventory Ads (Liasisre online ads that appear after you search for a product on Google. They display local products and, subsequently, your physical storefront, providing potential customers with all the details to help them move forward in their purchasing journey towards your stores.
There are two options of landing pages for this ad type:
A Merchant-Hosted Local Storefront (MHLSF) page
A generic Google-managed page
Merchant-Hosted Local Storefront (MHLSF) pages improve shoppers' experience with Local Inventory Ads by offering more information and purchasing options for users, helping you to increase in-store traffic and sales.
Let's dive deeper into the two types of MHLSF options available:
Basic MHLSFs lead visitors to a product's landing page, where they can select and purchase from a store of their choice that offers the item. The ad notates the price and availability of the product and allows for local pickup.
Full MHLSFs, by contrast, lead to a product's landing page for a specific store which includes the customized branding, store name, store location, local product price, related products, and a map of how to get to the store, and different purchasing options.
Using the Full MHLSF option for your local advertising gives you more control over directing shoppers to your branded landing page. Also, consumer behavior can be tracked and campaigns can be adjusted based on performance.
Product Landing Page Requirements For Full MHLSF Pages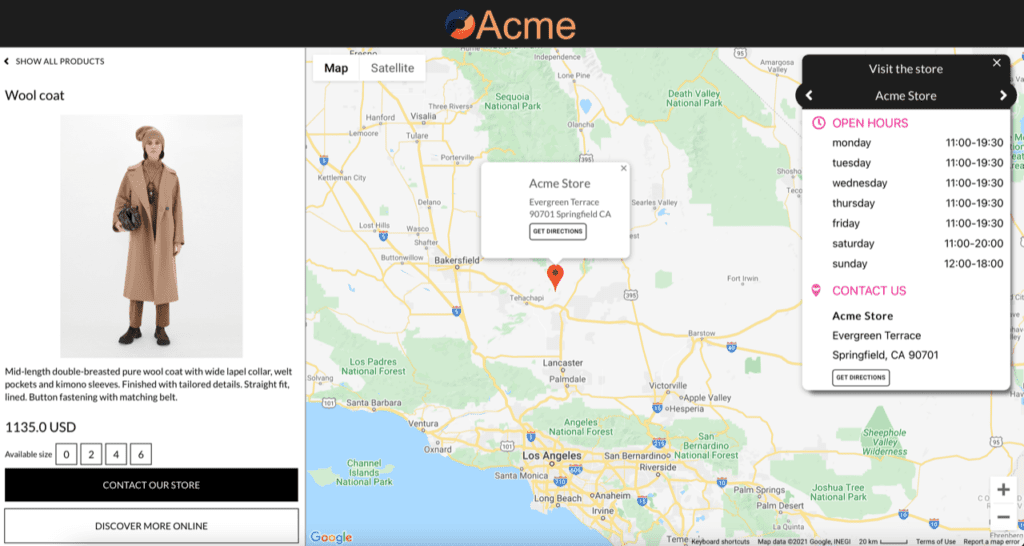 Your LIA Merchant Hosted Pages must be specific to your storefront and be compatible with various devices, from desktop to mobile.
The mandatory elements include:
The essentials: Address, local price, and availability must be visible upon first hitting the page. If your business has multiple locations, have all this information present upon selecting a specific location. The local availability point is crucial and should have the same prominence as the option to purchase the product online.
Accurate pricing: The local price must match the one you applied to your local inventory feed. If you're only going to show the online price, the local price for that specific location must be the same.
Accurate availability: Likewise, your actual in-store inventory availability must match the records in your Google My Business account. (You don't want to provide a product landing page for an item that is out of stock.)
Here are a few optional additions to consider:
Other store details like directions, contact information, and opening hours
A selection of similar products in your store
The ways to purchase items, such as through in-store pickup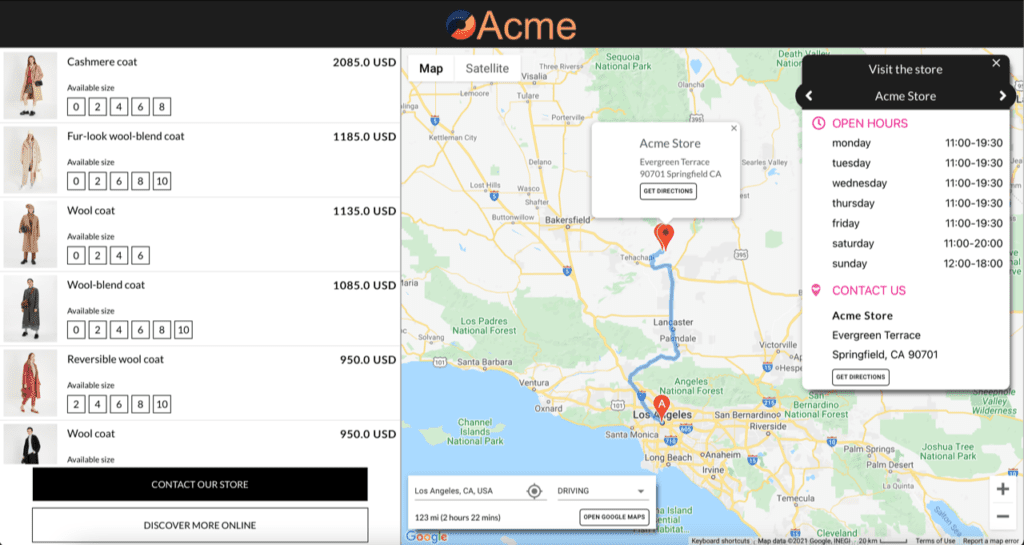 For Google's Search Engine to properly crawl your landing pages to check for accuracy and potential issues, we recommend you follow Google's structured data markup requirements.
Full MHLSF Pages Feed Requirements
If you're working with local product feeds you will have to add specific attributes to your feed like:
[link_template], including a [store_code].
Other parameters like [mobile_link_template] work well if you're optimizing for mobile devices and [ads_redirect] for URL tracking parameters.
Let's go through a brief rundown of the attributes needed for eCommerce stores.
Every product needs the [title], [description], [id], and [image_link] tags. [gtin] is recommended heavily and mandatory if the product manufacturer specifies one. New products require the [brand] attribute, while used or refurbished ones need [condition] specified.
For companies operating in the EU, energy efficiency attributes are needed:
[energy_efficiency_class]
[min_energy_efficiency_class], and [max_energy_efficiency_class]
Other local regulations sometimes require:
[unit_pricing_measure] and [unit_pricing_base_measure] to complement the usual [price] and [sale_price] attributes.
If your store offers local pickup options, think about using the relevant attributes as well. These include:
[pickup_method]
[pickup_SLA]
[pickup_link_template]
[mobile_pickup_link_template]
For products not sold in stores, use [excluded_destination], as it hides certain items from your online product feed.
Consult with Google's official documentation for more information.
Get Started With Merchant-Hosted Local Storefront

Optimizing the landing pages for Merchant-Hosted Local Storefront plays a massive role in local marketing strategies.
A customer-focused shopping feed management solution can help you track all the requirements and recommended practices, so you can get started on the right foot, and give your local and online product sales the boost they need.
Highstreet.io's MHLSF Landing Page Service provides you with:
Customized landing pages that include branding and related products
Customer-focused user experience that allows for in-store checkout and the ability to reserve products
Direct communication with Google for approvals
Improve engagement and conversions from your Local Inventory Ads with Merchant Hosted Local Storefront pages. Book a consultation with Highstreet.io to find out more information on how we can help you get more customers at a local level.
Other Resources: