Whether you're searching for the latest fashion trends, your favorite pair of running shoes, or simply looking to buy yourself that bag you've always wanted, it all comes down to researching online. And what if the product you were looking for was available at a nearby store, wouldn't you consider buying it right away?
Your customers are no different. When they're searching for products, they go online to find them. And, if the product is available within reach of their location, thus they can get it right away, and they will make that purchase.
Search marketing is usually focused on driving traffic to websites & online sales, so it is not easy for marketers and retailers to attract customers to their brick-and-mortar stores.
In the world of advertising, there are many solutions to better grab users' attention and bring them to your website – but how do you attract people online, and turn them into in-store shoppers?
In this post you will learn about users' local search intent, and how local online advertising can help you better meet customer expectations, boost foot traffic to your store and increase sales.
The importance of Local Online Advertising
Almost half of Google searches showed local intent with a third of consumers checking local products and local businesses online every day, with mobile queries prevailing. According to Forbes local search helps people find what they need when they need it.
Local search has also the greatest potential to connect consumers with your products and services better than any other marketing medium.
It's all about the intent to buy. So, when people perform a local search, there is typically a much higher intent to purchase. Therefore, a higher conversion rate, as searched products are available within reach of the user's current location.
Consumers are searching for locally available products everywhere, on every device, and at every point in the purchase journey. If we look at mobile users, the likelihood of local searches resulting in an in-store visit increases by 35%.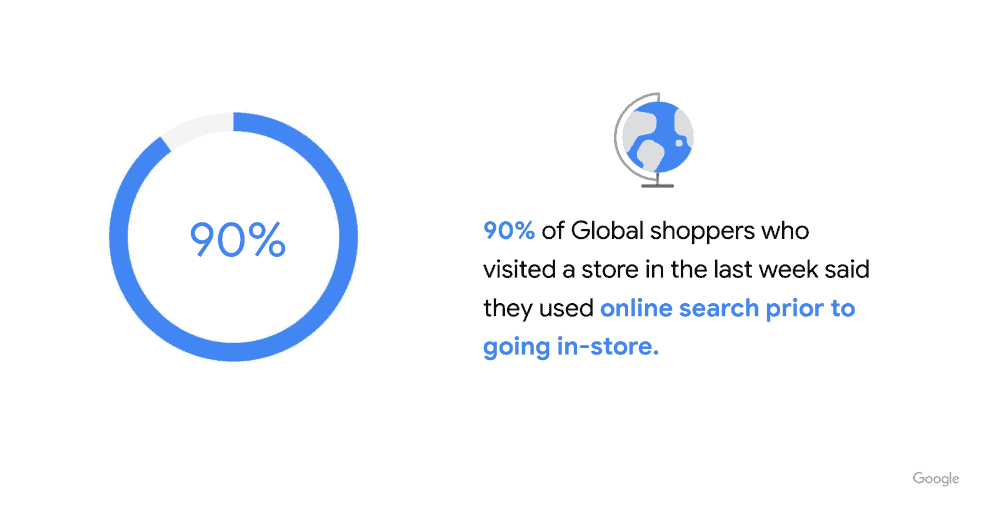 This is why having your products available across Google properties on Google search and Google Display it's so important.
Remember, you must make sure your product availability, address, location, and directions appear in your ads across smartphones and computers/tablets to truly succeed in your local advertising.
Check out how to better manage your business listings
How Local Online Advertising Works
Local Online Advertising specifically centers around a local business or local store chain and targets potential customers in a physical store's area.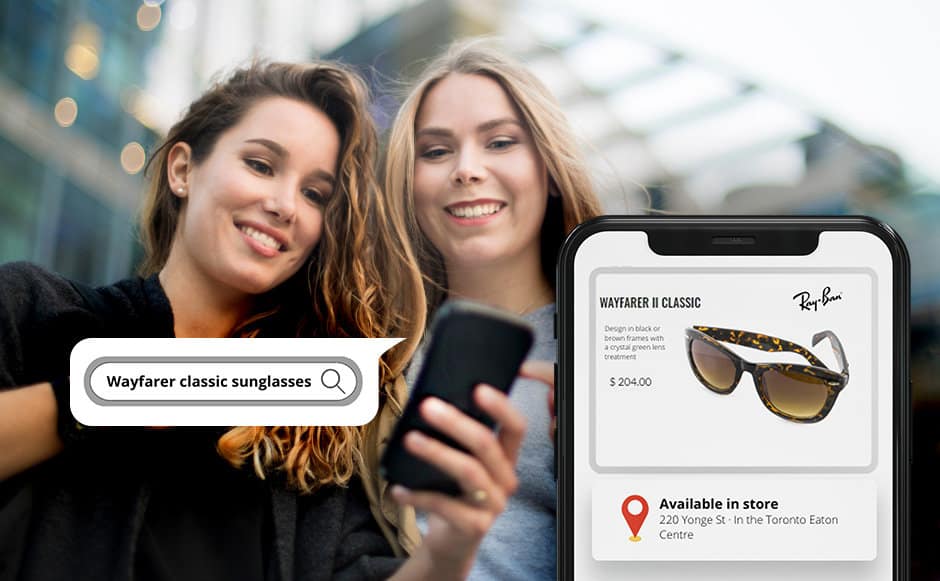 By showing people products that are at hand in their location, they will likely become more attracted to you and your products, and take a step into your store to purchase as it's immediately available within their reach. The takeaways? Consumers would buy in-store instead of online knowing they are closer to the store, and that they can get the product quickly.
This type of marketing can be very effective for brands and retailers who want to increase awareness and effectively advertise their products and availability, bringing more qualified customers into in-store purchasing. Let's take a look at how advertising locally available products within a specific area user are searching, can help you stand out from your competitors and gain more qualified in-store traffic.
Powerful Local Online Advertising Tips
Advertising locally available products online can be a tremendous tool for many different businesses. And it is especially useful for larger businesses, looking to build their customer base in specific areas.
Here are some powerful local online advertising tips that can help hyper-localize your marketing:
Create more appealing ads that are relevant to customers' local search intent
Tag location-specific keywords onto your product titles and description to match relevant search queries
Geo-Target your audience. targeting users interested in a specific product that is locally available, can easily increase the chance to have more potential buyers at your store
Incorporate location data into your marketing campaign to better reach consumers based on qualifiers like proximity to a store, events happening in their area, and more
Optimize your landing pages by showing products available in a given store and provide your customers with all the information they need to confidently buy in-store
Promote only available and in-stock products to avoid bad customer experience, so you can meet customers' needs and expectations
Key Benefits of Local Inventory Ads Campaigns
Local inventory Ads allow retailers to promote all of their store's inventory across Google.
Here's how Local Inventory Ads can benefit your business:
Generate more in-store traffic and sales
With Local Inventory Ads, you can promote your locally available products to users who are searching in a specific area.
As you attract them into your store, you can provide them with the product they want to buy, by addressing and satisfying their needs. Plus you get a chance to cross-sell related products per purchase.
Build trust with your customers
By bringing customers to your retail store, you can enrich their in-store experience with human interactions.
A positive experience will lead to repeat visits and long-lasting trust. Plus, Google tends to increase organic search rankings for businesses that are relevant and trusted by local users.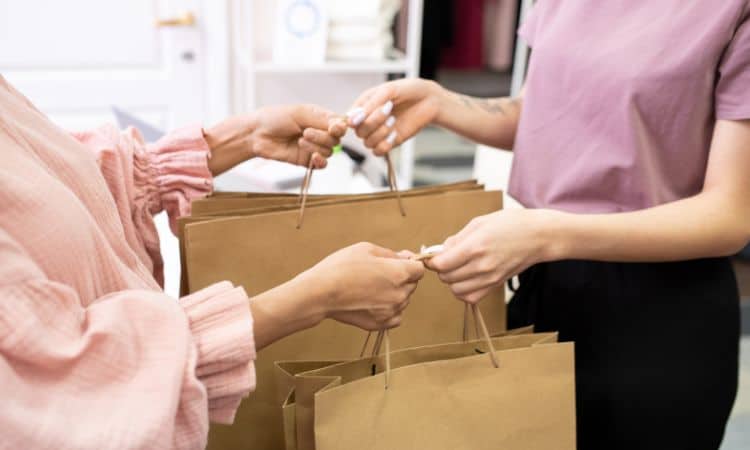 Spend less and get more
Local Inventory Ads make you reach out to a specific number of people. You will have a lot more flexibility in terms of ad budget and get a higher ROI because you specifically target certain demographics to maximize your sales.
Conclusion
Big Brands have always struggled to try and reach customers at the local level. And when it comes to advertising big catalogs of products for different stores, most marketers spend more than half their day optimizing campaigns and marketing data.
Maintaining multiple campaigns across multiple channels can be challenging at times. It requires a level of attention and fine-tuning that can often create headaches for you and your team, leading to a lack of accuracy. What if there were simple and smarter ways to manage all of your product data for your local campaigns?
A Product Feed Management Tool helps you:
Manage all of your product data in one place, to improve your local inventory ads
Advertise a broader range of products and services in a specific location radius, to better serve your audiences with products they're looking for
Send more qualified customers to your stores by showcasing product availability at a nearby location

With the right marketing technology, you can effectively advertise your local products, on a large scale, with ease and efficiency. Discover how Highsteeet.io can become your ally in getting more local sales and traffic.