Instagram's newest eCommerce feature – Instagram Shop- makes it easier for customers to purchase products from your store.
With more than 1 billion people using Instagram every month, the platform allows you to showcase your products in front of potential buyers through Instagram's shoppable posts and stories.
But what exactly is an Instagram Shop? How do you set it up and how is an Instagram shop different from a Facebook shop? Let's dive deeper and find out.
What is an Instagram Shop?
Instagram Shops allows businesses to create an in-app storefront to build their brand and drive product feeds. The shop can be accessed through a business's Instagram profile, posts, or stories. Once in the storefront, your visitors can browse products, and collections and make purchases directly from your storefront thanks to Instagram's checkout.
Instagram Shop helps streamline the process of posting posts and stories, encouraging viewers to visit your website or brick-and-mortar store.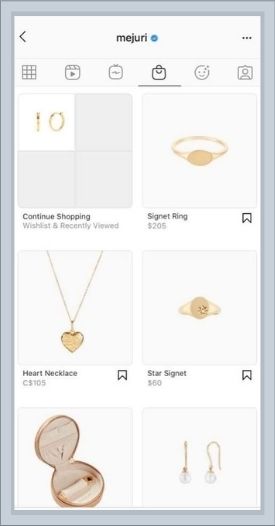 Users can use Instagram Shop to browse products based on categories, such as beauty or home decor. Later this year, Instagram promised the reveal a shop tab in the navigation bar.
What's the difference between Facebook and Instagram Shops?
The difference between the two is minimal.
Facebook Shops allows you to create a dedicated "shop" section on your Facebook page where products can be purchased, saved, or shared by users. Shops are extremely customizable – businesses can choose which products they would like to feature, set a cover image, and accent colors that can best showcase their brand.
Additionally, Facebook Shops are integrated into Facebook's apps – so you can make it available from your shop's Instagram, and can be shared on your stories and ads. They make it easier for visitors to ask questions, as they'll be able to message your business through WhatsApp, Facebook Messenger, and Instagram Direct.
How to add products to your Instagram shop
The opportunities to increase sales through Instagram are huge, with 70% of shopping enthusiasts turning to this social platform for product discovery. With a few simple steps, your shop will provide a simple, and seamless shopping experience for your customers.
Step 1: Check that your business meets the requirements
Before getting started you must ensure the following:
You're based in a country where Instagram Shops are available. Here is the list to confirm.
Your Instagram has a business or creator profile on Instagram. View these simple instructions on how to change your settings.
You've connected Instagram to your shop's Facebook page. This will allow you to connect your Facebook Shop's product catalog.
Step 2: Upload your product catalog
There are two ways to upload your catalog:
Facebook catalog manager. More details can be found here.
eCommerce integration. This integration can be done through partners such as Shopify, and Bigcommerce.
Step 3: Get your Instagram Shop approved
Now that you've ensured that your shop fulfills the requirements and your product catalog is complete, you can submit your account for approval.
This can be done by going to "Settings":
And then "Sign up for Instagram Shopping"
Follow the prompted steps and then hit "Submit"
Allow for a couple of business days for your request to be approved. You can check your status by going to "Shopping" located in your "Settings".
Step 4: Turn on the shopping
Yay, you've been approved! It's time to turn on the shopping
Click on "Settings"
Tap "Business" then "Shopping"
Select the product catalog you would like to connect  your shop to
Note: If you have not been approved, you will not see the "Shopping" option under "Settings".
Step 5: Publish your first shoppable Instagram post!
You are now ready to start making sales directly from Instagram: upload a photo, and tap to tag. You can tag 5 products per post.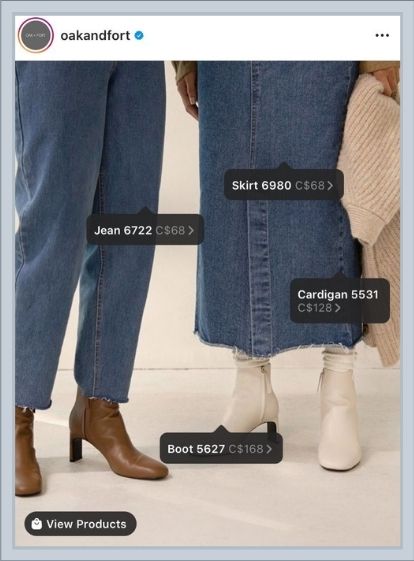 With over 5 million people using Instagram Stories each day,  ensure you are making the most of this platform. The process for posting on your story is similar, but you can only tag one product per Instagram story.
Once you upload your story, hit the sticker icon on the top-right corner and select "Product". Then select a product in your catalog.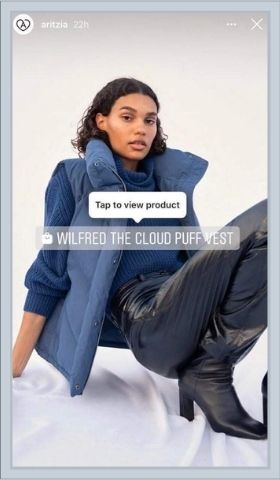 To take advantage of the billion active Instagram users, ensure that you start tagging your products with a well-constructed Instagram Product Feed, and better market your products to your audience.
Discover how Instagram Shops can help your eCommerce business increase the visibility of your products. Schedule a free consultation with the Highstreet Team and start creating successful Instagram product feeds for better ads.
Related Articles