Instagram Shopping is changing the face of advertising. According to Instagram, 1 billion monthly users were active on the platform in 2019. So, how can you as a retailer or agency start marketing your products to this type of audience?
Keep reading to find out.
5 Steps For Creating an Instagram Product Feed & Shoppable Posts
Step 1: Authenticate and connect your Instagram business account to Facebook Business Manager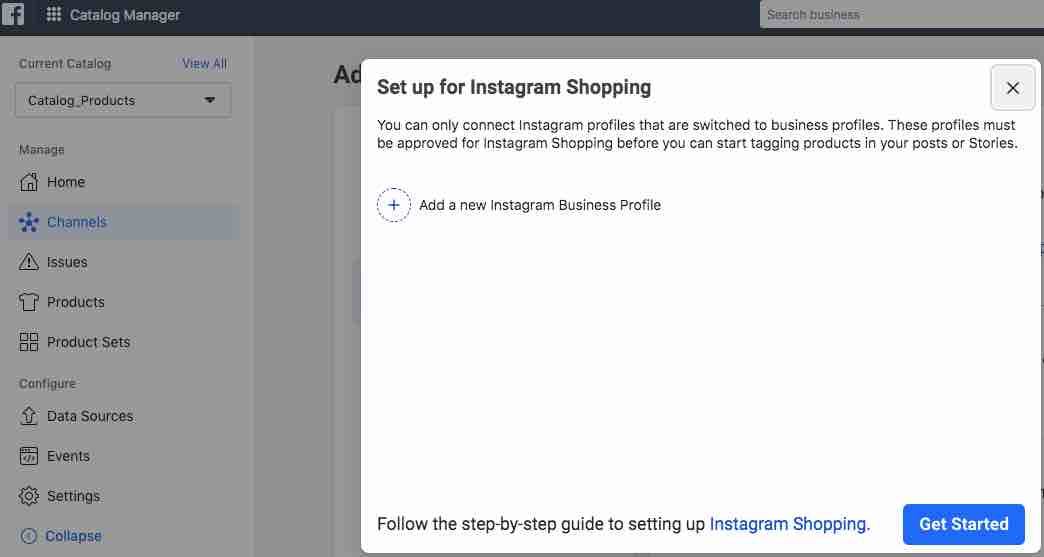 After you've connected your Instagram account and catalog to Facebook Business Manager, open the Instagram app to sign up for shopping.
Go to your profile settings, tap Business, and tap Shopping on Instagram. Follow the steps to submit your account for review. This process takes a few days, but sometimes it can take longer. You can visit Shopping in Settings at any time to check your review status.
Once you've been approved, you'll receive notifications from Instagram. Complete setup in Shopping to start tagging products.
Step 2: Decide whether to use Facebook Catalog Manager or a Facebook Partner to Create Your Feed
Option A: Use Catalog Manager
This is the do-it-yourself method. You can create yourself a new catalog, or connect to an existing one.
Option B: Use a Facebook Partner
Get some help! If setting up a catalog feels too time-consuming, a Product Feed Management Provider, Certified in creating Facebook Product Feeds, can help. Like us!
Contact Highstreet.io to take the hassle out of setting up your Instagram Product Feed.
Step 3: Select a Facebook Business Account Owner & Create/Add a Catalog in Facebook Business Manager
Select Catalog Manager in the top-left dropdown menu and click on the blue button "Create Catalog" on the top right of the screen.

Choose the type of Catalog.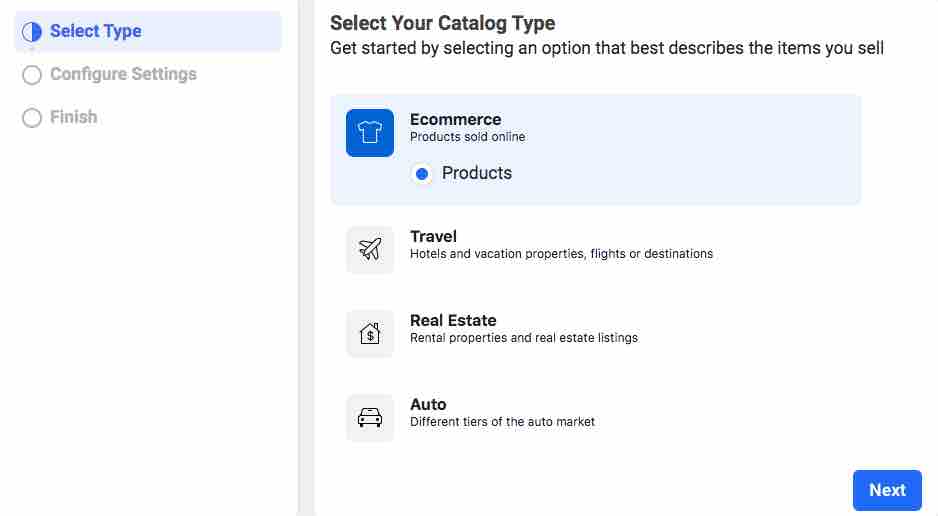 Configure your Catalog Settings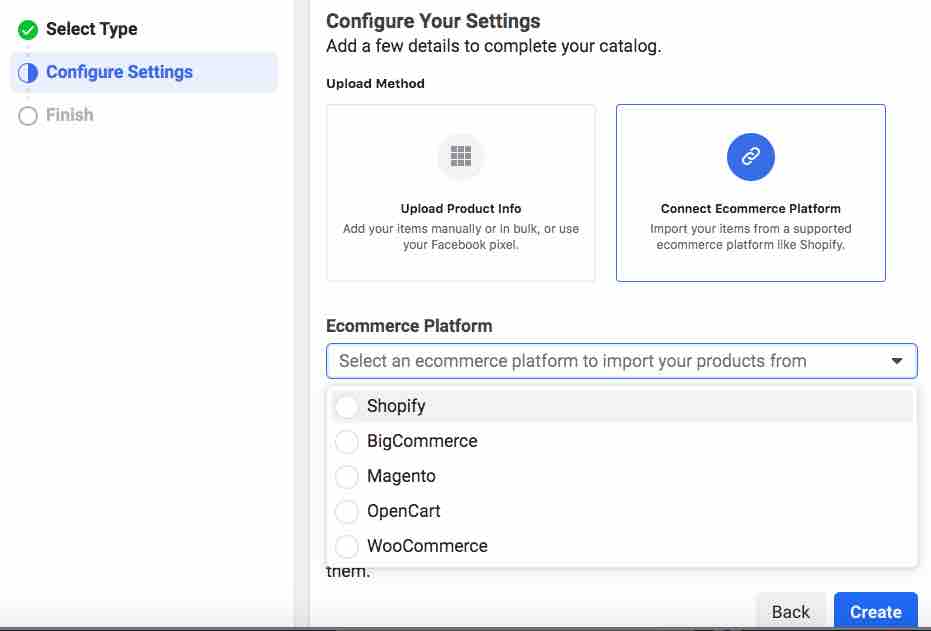 Step 4: Choose from your list of product catalogs in the Facebook Catalog Manager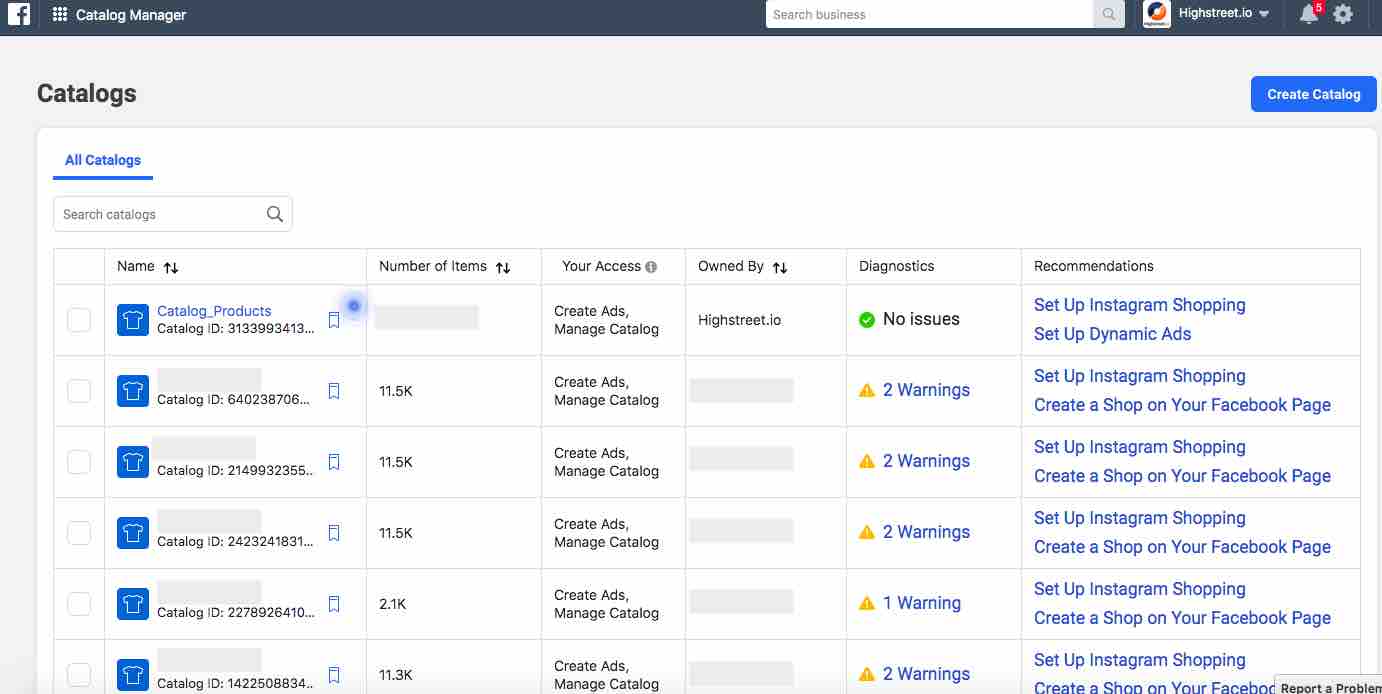 Step 5: Tag your Products on Instagram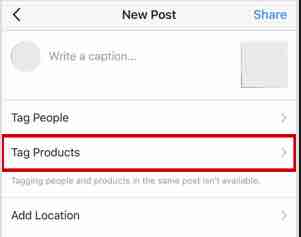 On the caption page, there will now be options to tag both people and products.
1. Select your photo, add a caption/effects / filters etc, and tap 'Tag Products
2. Tap the products you wish to tag in the photo (You can tag up to 5 products per single-image post or up to as many as 20 products for multi-image posts.)
3. Then, enter the names of the products you want to tag and select them as they appear in the search box (they come from your product catalog feed that you uploaded to Facebook Business Manager)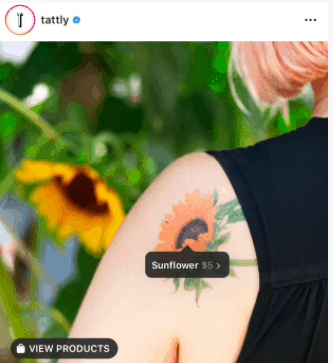 Instagram will pull in all product catalog information from Facebook, including a link back to your website from the photo. Up to five product tags can be added per photo.
Click 'share' to set your shoppable Instagram post live!
Sound easy? The one thing you might need more help with is Step 5.
It's important to include the correct product data within your feed to get the most out of your shoppable posts.
In-depth Instagram Product Feed Troubleshooting
Instagram has different catalog (feed) limitations compared to Facebook Dynamic Product Ads and Google Shopping.
On Instagram, you can only upload 1 feed of your catalog to 1 account. If you have multiple Instagram accounts for every country/language there is no issue matching country-specific product URLs to each Instagram account.
If you only have 1 master account for your business you may need to look into updating your feed URLs to be more generic.
Scenario 1:
Your website pulls the country and associated language and currency dynamically.
In this case, you can update your product URLs to strip out the country. When you tag your product the URL should load the proper country based on the location data it pulls from your IP automatically.
Scenario 2:
Your website has unique static URLs for every product based on each country and/or language.
On Instagram, you can only upload 1 feed of your catalog to 1 account which means you need to choose 1 set of product URLs to include in your feed.
Someone mousing over your products in a Shoppable Instagram post may not see the product name or price in their language or currency depending on where they are located.
Use your Facebook Dynamic Ads feed for Instagram if you're only advertising in 1 country, 1 language, and 1 currency. Otherwise, follow the recommendations above to create a custom feed.
Next Steps
If you are interested in making your products shoppable on Instagram, Facebook & Google, a feed management platform can help you improve your product advertising & grow your product sales.
Reach out to the Hightstreet.io Team to get started!