In the set-up of your Facebook Dynamic Product Ads campaigns, you already know how to market your products. But how exactly do you get the right products to show up in the appropriate ads in the correct location? The most popular question we get from clients on this topic is "how do we set up our Facebook catalogs with our Facebook product feeds?" Keep reading to find out the details in the 5 easy steps process.
Facebook Product Catalogs Set Up
Describing how to set up Facebook Product Catalogs is easy. Facebook Business Manager states "A catalog is a container that holds information about the items in your inventory".
The catalog is connected to your product sets used for ads. Because Catalogs, Product Feeds (data sources), and Product Sets are all tied together, we're going to review all 3 topics so you can feel confident your ads will contain the RIGHT products. Let's go through this process, step-by-step.
Step 1 – Get Started with Marketing Objectives
Catalog setup starts when you create an Ad campaign in Facebook Ad Manager. A pop-up screen appears where you choose your campaign's purpose under "Conversion".
Choose the Conversion Type "Catalog Sales".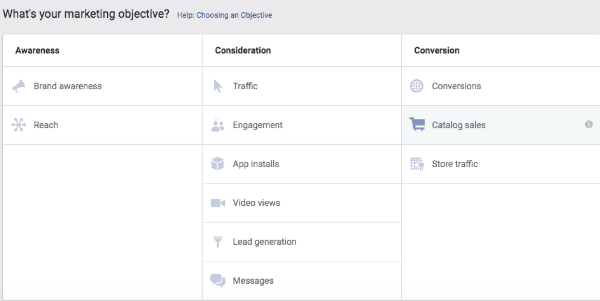 Step 2 – Create your Campaign
The second step is to create a campaign name and decide which catalog to use as a data source for your ads.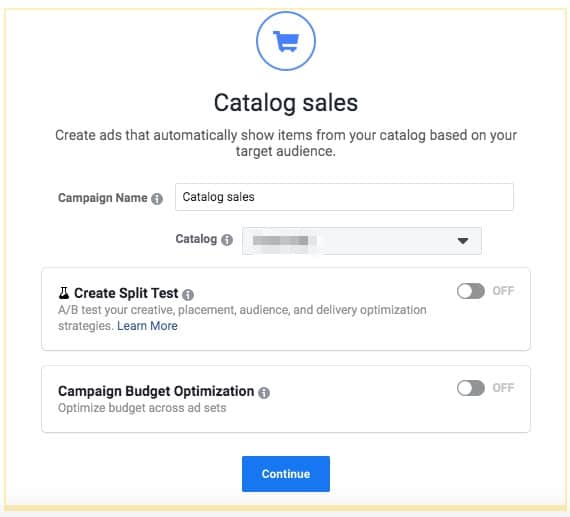 If the catalog field is NOT already pre-populated in the drop-down menu, you need to add one in Catalog Manager
Click "Create new catalog" at the bottom of your catalog list. If there are no catalogs, Facebook will prompt you to create one.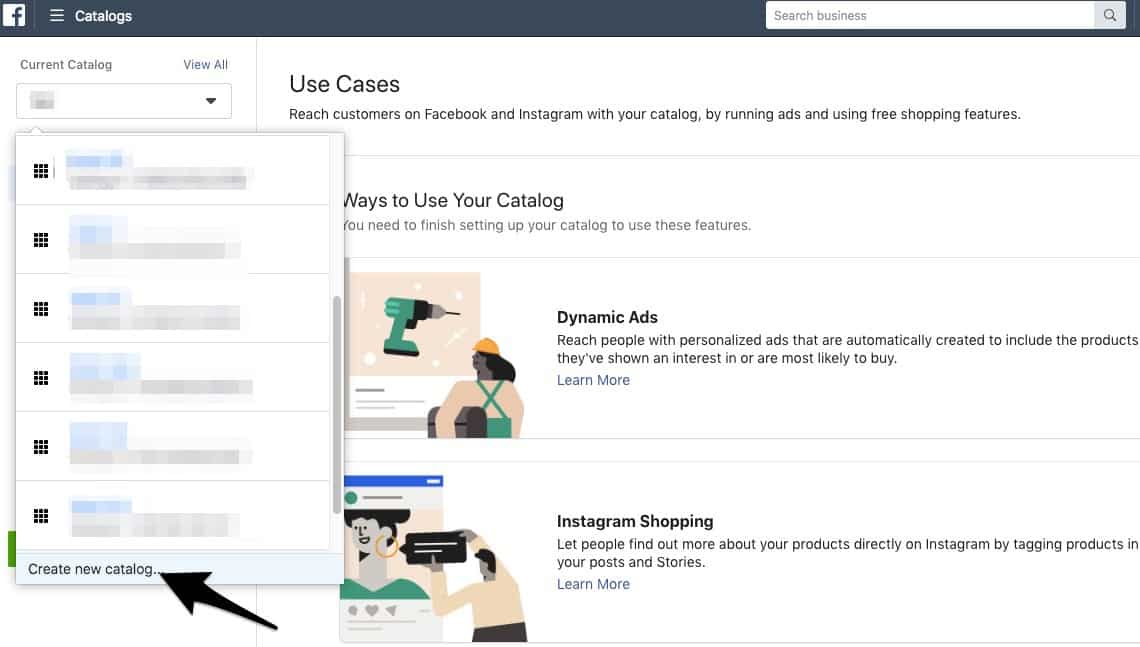 Step 3 – Create a Catalog
First, select "E-commerce" as the business category.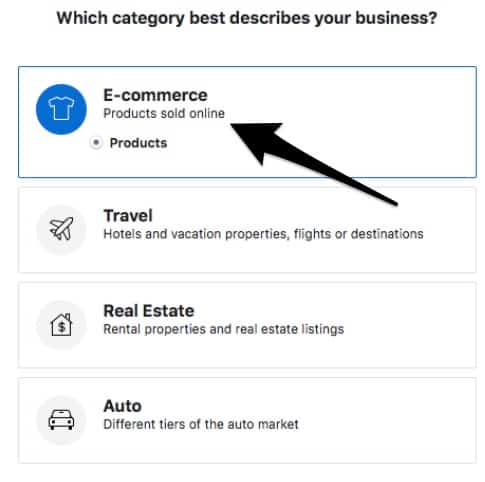 Select "Upload Product Info" to upload a product feed. We're going to focus on companies that are using feeds and not connecting directly to an eCommerce Platform.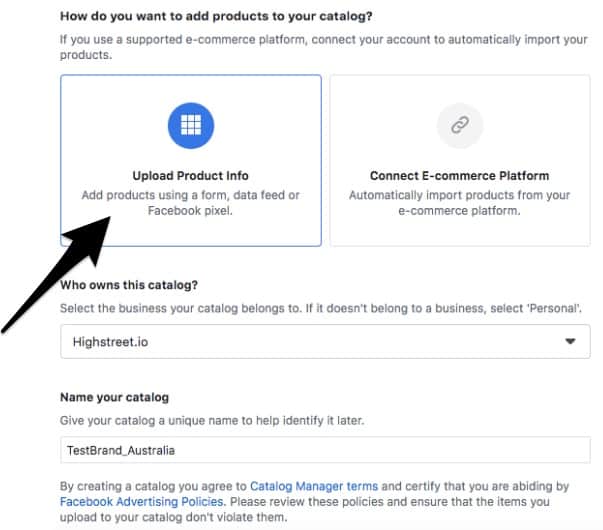 Your business name should appear in the business dropdown and this is where you name your Catalog. The catalog is just a container with various data sources.
The best practice is to use a naming convention such as "brand-market". This naming convention easily conveys which data source should be assigned to a campaign.
Once you hit next, your catalog container has been created and is displayed in the top left of the screen under "Current Catalog". Now you need to fill it with products.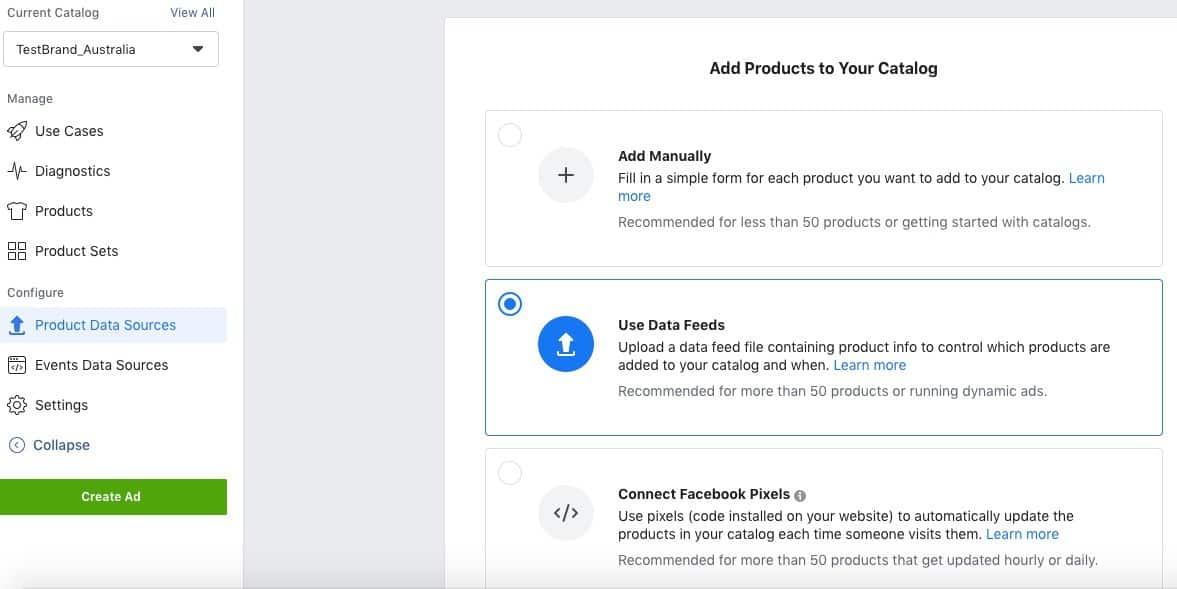 Go to "Product Data Sources" in the left navigation and click the blue "Add Products" button.

This part is where many people get confused. Keep reading to get more details and answers.
Step 4 – Configure your Product Data Source
There are two options to configure the data source.
Upload your data source manually 
Set an automatic file upload schedule (this is the one we use with our clients)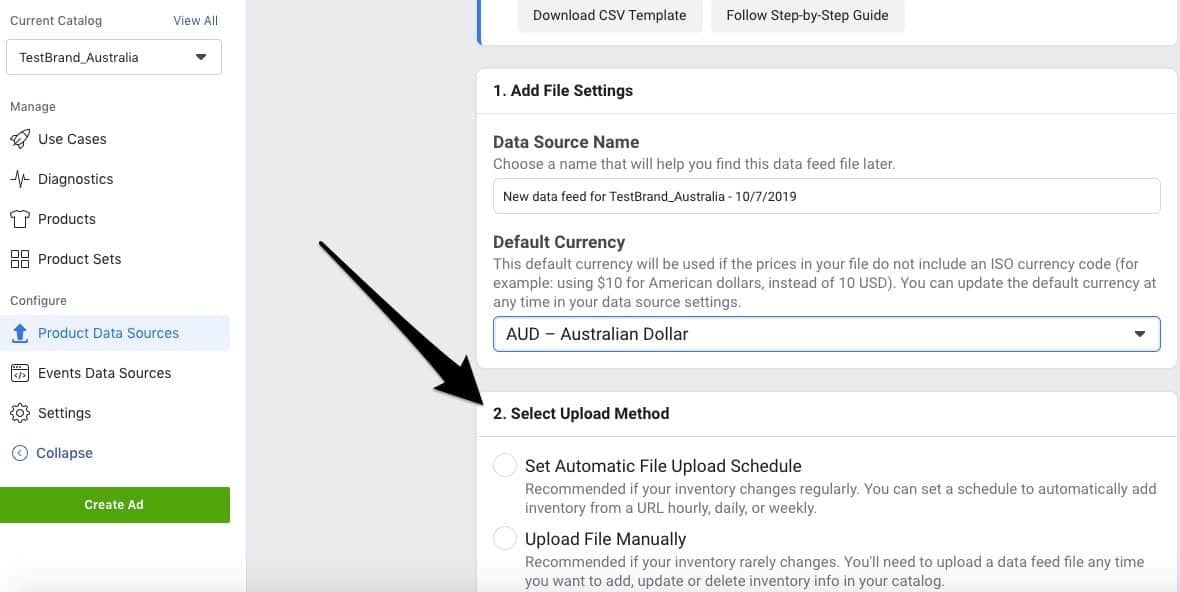 Set Automatic File Upload Schedule
When you select this option more fields appear below. Use a product feed as your data source. How do you do this?
Add the URLs and passwords for your product feeds. If you don't have your URLs and passwords and you are using a feed provider, request this information for each of your feeds.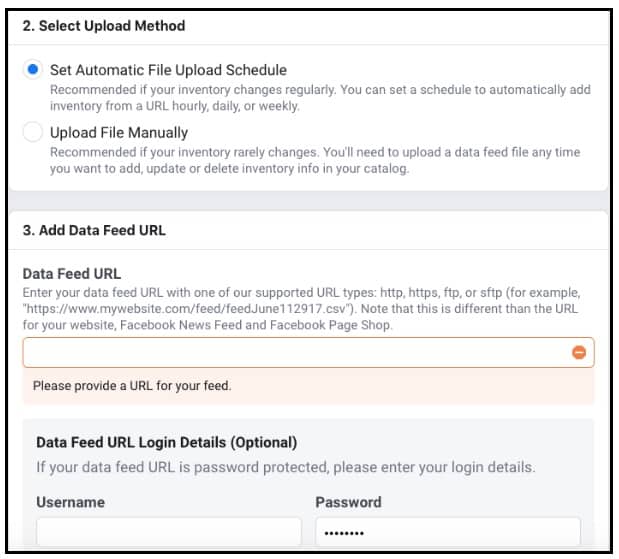 If you need your feed provider to be able to attach the feeds to your catalogs, you might be asking yourself the following questions:
"How do I grant my feed provider access to my Facebook Ads Manager?"
Answer: Provide access to your feed partner in your Facebook Ads Manager settings by following these steps.
Go to the "Assign Partner" tab and grant access to the company
That company can provide access to the appropriate individuals by clicking on "Add People"
All the feed partner needs is the list of catalogs they can attach their correlating feed to
If you're not able to provide the feed company access, source the URL, Username & Password from them to add the feed yourself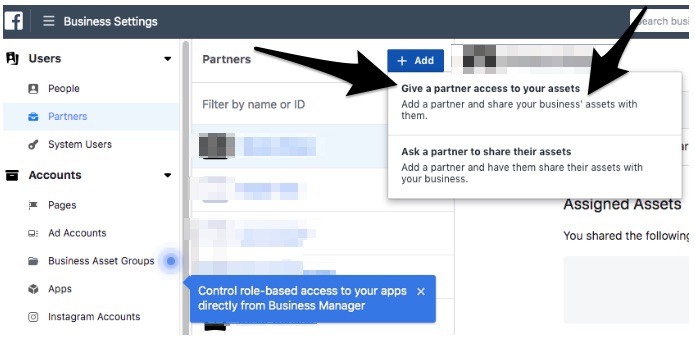 How do I attach the Data Sources (Feeds) myself to a Catalog?
Answer: As a representative of your company, you can add data sources (feeds) to the catalogs you've set up.
Go to the appropriate catalog and follow Facebook's instructions.
Every catalog needs to have a feed URL with a username and password to access the feed from the provider.
The best practice is to have 1 catalog per market. For example, you would have a separate catalog and corresponding feed for each country.
Step 5 – Configure your Product Sets
Now it's time to create your product sets to determine the products that will be used in your Facebook Dynamic Product Ads.
You need to name your Product Set and then define your rules according to various parameters in a drop-down list. Once you've defined the type of parameter then you can tell Facebook what to do with it in the example below.
You can add multiple product sets in this section.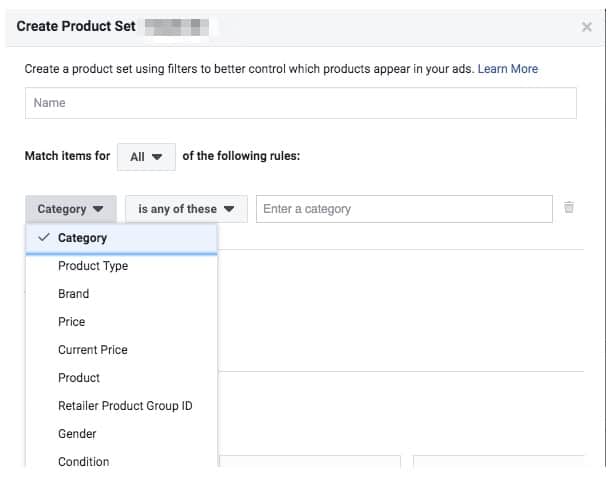 The rest of the campaign setup is specific to your marketing goals. We'll leave this to the marketing experts!
What Next?
This is where you create your Ads and Product Sets associated with a catalog. We'll leave it up to your marketing department or agency to create the campaigns. As a product feed provider, the Highstreet.io platform customizes each Facebook feed for each of your markets. If you are looking for a way to boost your Facebook product advertising, reach out to our team to set up a demo.