There may be a lot of dancing, lip-syncing, and comedic skits when you scroll through your feed, but don't be fooled: selling on TikTok is serious business, especially when you're ready to showcase your products to its vast global audience.
In its 2023 What's Next Trend Report, TikTok provided its own assessment of what keeps consumers coming back to its app for hours on end: the focus on relatable and uplifting has created a community that is ready to take action. Ads with a high entertainment value scored 15% higher for purchase intent.
Having a TikTok product feed is just as important as making an ad funny or heartwarming, though. Consumers need to see products with accurate, up-to-date details before they'll click a "buy" button. When it's done right, however, selling on TikTok could be an important growth driver.
Benefits of selling on TikTok
Just consider the results of a survey published in early 2023 that showed 83% of consumers believe TikTok will become the home shopping network of our digital age. This has attracted big brands like Fenty Beauty, which got headlines for running contests and other marketing tactics on TikTok. Another study found clothing is a top spending priority for women using TikTok.
Is it worth selling on TikTok? Yes, because:
Achieving reach within large consumer segments matters, especially when you're selling luxury products across multiple geographies. Marketing on TikTok should be just as big a priority as being present on other popular channels, such as search engines or display advertising.
For brands in segments like fashion, this represents one of the most covetable demographics, based on disposable income and typically high levels of shopping and spending activity. It's an audience where the marketing return on investment (ROI) may be higher.
TikTok's "For You" page is designed to help people discover people brands they don't know.
Other social platforms, such as Facebook and Instagram, organize feeds primarily based on content from someone you're following. That can make it more difficult to raise brand awareness among new prospects. TikTok's approach has become so successful it is being replicated on other social platforms, including Twitter.
TikTok also provides brands flexibility in terms of creating effective marketing content to reach their business goals, such as driving more revenue, increasing share of wallet among existing customers, and increasing brand affinity. Marketers can create their TikToks using little more than a smartphone, for example, showcasing stylish products in a way that feels native to the platform. Brands can also partner with influencers and creators who already have large followings on TikTok that point them to their TikTok Shop.
Get the Details on How to Sell Products on TikTok
What Is TikTok Shop?
Initially available in locations such as Southeast Asia, TikTok has continued to roll out TikTok Shop, which allows merchants to display their products to its community, along with directly integrating e-commerce capabilities for shoppers for a smooth purchasing experience.
TikTok Shop also includes tools to manage campaigns, analytics to track marketing performance, and access to collaborate directly with creators.
Selling on TikTok via TikTok Shop isn't limited to shopping ad campaigns but merchant-led live videos and in-stream videos. For many brands, however, the most natural starting point will be simply setting up a TikTok product feed to ensure their products are being featured where their customers are most likely to be browsing online. Before that, though, it's important to understand how your ads will show up on the platform.
TikTok Shopping Ads Formats
There are also several options for formatting your TikTok ads. You might want to consider trying them all and doubling down on those that prove most successful after running a test for a period of time.
Live shopping ads, for instance, are probably best suited for a time-sensitive event, such as the launch or availability of a new product. They will be seen in real time as people are scrolling through TikTok and can be a chance to answer questions and get a work-through of products in detail.
Video shopping ads appear on the "For You" page of the app, which means they might work well as a way to raise brand awareness among consumers that don't yet know your brand very well. The good thing about these ads is that the videos are shoppable, meaning people can place orders directly if they like what they see.
Catalog listing ads are probably the most familiar format if you've run campaigns through channels such as Google. Setting up a TikTok product catalog allows you to curate the items you want to curate and highlight to the app's discerning audience.
No matter which format you choose, you need to make sure your ads feature the most relevant items from your catalog, which is where a TikTok product feed comes in.
How To Create A TikTok Product Feed
Much like other social commerce platforms, you can begin setting up a TikTok product feed once you've created an account on the TikTok Business Center. This requires time and attention to detail.
1. Create your TikTok product feed catalog
With the "Catalog" area of the TikTok Business Center, choose "Add Catalog." Enter details such as your catalog name and business center account as well as your:
Location
Default currency
Targeting location
Industry
Select "Create" to finish setting up your catalog.
2. Choose your product upload option
From there, you can begin to add items to your TikTok product feed in one of two ways:
by entering detailed information about each product
by working with a partner that offers a solution to automate your TikTok product feed. In this scenario, we're walking through all the steps in manually adding products
Once you've created a catalog, navigate to the area called "Manage" and then "Products." This will present you with a template to download.
In the same area, select "Add products" and click on "Manually add." Click "Next" and then begin entering all the required product information. When you're done, click on "Import."
3. Enter product attributes
TikTok's Catalog Manager requires nine different mandatory fields for every product you sell on its platform. This includes:
Product images
SKU ID
Description
Price
Video URLs.
To maximize the potential of selling on TikTok, you probably want to consider the 27 optional fields as well.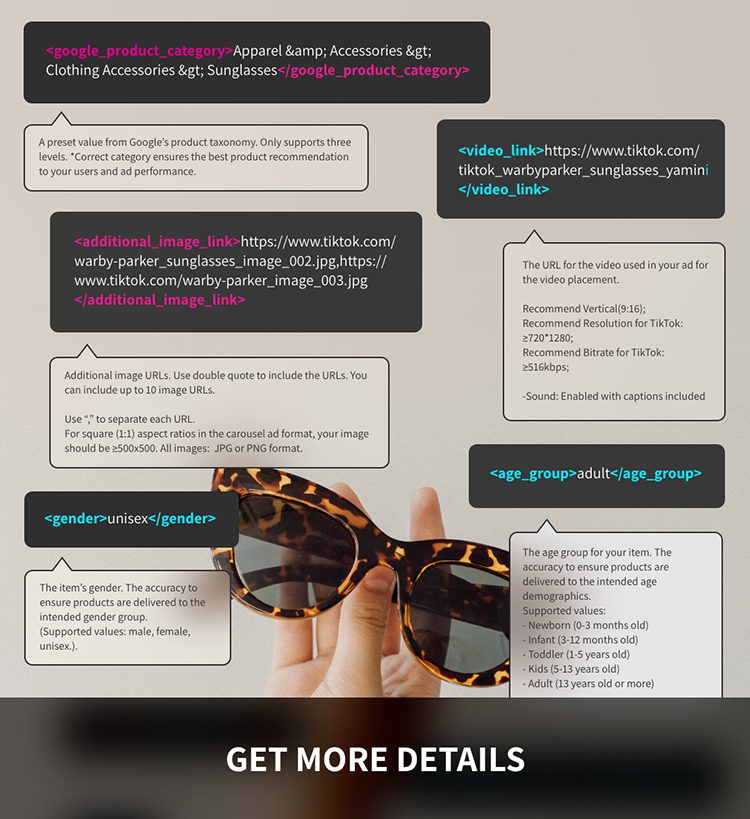 4. Choose a storage format for product attribute data
Most brands have many different products to include in their feed. Make sure you store them as a CSV, XML, ZIP, or other appropriate format
5. Establish your feed schedule
Depending on how often products get updated within your catalog, you may want to schedule feeds on a daily or even hourly basis. Remember that consumers will be expecting all your catalog data to be accurate and error-free. If you're choosing hourly, you'll need to indicate the precise time the file updates should begin.
6. Choose a product update method
If you'll be primarily adding or updating details to the items in your TikTok product feed, upload the file you need for each one. If you're replacing your data feed, you'll need to upload a new one where the existing one was located. Choose "Import" to complete this process.
7. Group products into sets
Find "Product Set" within the "Category area and choose "Create a product set." From there, you can either manually select one product at a time by clicking on "Manually Select Products" or "Use Filters" to make it easier to create product campaigns. Click "Confirm" when you're done.
8. Add new product sources
Although you need to choose an initial source when you're first setting up your TikTok product feed, you can introduce others later on. This is done simply by choosing "Add Products" after selecting "Product Sources" in the "Configure" area. Remember that TikTok needs to review all the ads that run on its platform – it suggests only having one data feed per catalog to expedite this process.
9. Edit and add products
There is still plenty of opportunity to make changes to your product information after they've been added to your catalog. You'll find the edit button by hovering over the product name, which will allow you to make changes in each field. The product SKU ID has to remain the same, however. If you need to delete a product because it has been discontinued or your brand is no longer carrying it, click a checkmark next to the product and choose "Disable" from a nearby drop-down menu.
10. Establish TikTok product catalog rules
Sometimes you'll want to make minor changes to your product information, and TikTok offers a rules-based mechanism for doing so. Just choose "Product Sources" within your catalog, click on the source name, and select "add rules" under the settings tab.
You'll have several options here. You can opt for "Value Replacement" to swap one value in a product with another, set "Default Value" or even "Mapping" to map a value from your file into a TikTok-supported column. "Regex Replace" is a way of substituting inventory details in your TikTok product feed file with a new value.
TikTok's Business help center offers even more details on every step in this process.
It's important to remember that manually adding products isn't a one-time exercise. Pricing, for instance, will only be displayed in the currency you chose when your product was created. If you use TikTok to sell into new markets, it will have to be updated. The same goes for changes to product descriptions, SKU IDs, and more.
Why you should use a product feed management platform for selling on TikTok
Automating product feed management takes away the hours otherwise spent adding and updating items to your catalog, while also improving the accuracy of all the data your customers will see.
With Highstreet.io's Social Commerce service, for example, everything from feed configuration to product data optimization and synchronization is managed for you. Flexible configurations allow you to keep on top of changing channel requirements, and you can connect your analytics platform to track the performance of products you're selling on TikTok.
Though it's just one of many possible channels you can turn into a shoppable storefront, TikTok's popularity is impossible to ignore.
Connect with us to start synchronizing your product feeds on TikTok and learn more about how Highstreet.io can ignite your social commerce sales.