Even if you've been collecting Black Friday advertising tips for years now, the 2022 holiday shopping season is pointing retailers toward another moment in the calendar year they need to consider as they plan their marketing strategy.
It's not an additional holiday.
It doesn't even have a specific date.
It's what some are calling "Early Black Friday."
Since mid-October, several brands have already been offering special promotions and discounts in advance of the official Black Friday holiday on Nov. 25. With more brands trying to make up for challenges over the past two years, the race to capture consumers' time, and attention and wallet has already begun. That said, there is still time to use these Black Friday advertising tips to ensure you stay competitive.
Shopping behavior during Black Friday: What you need to know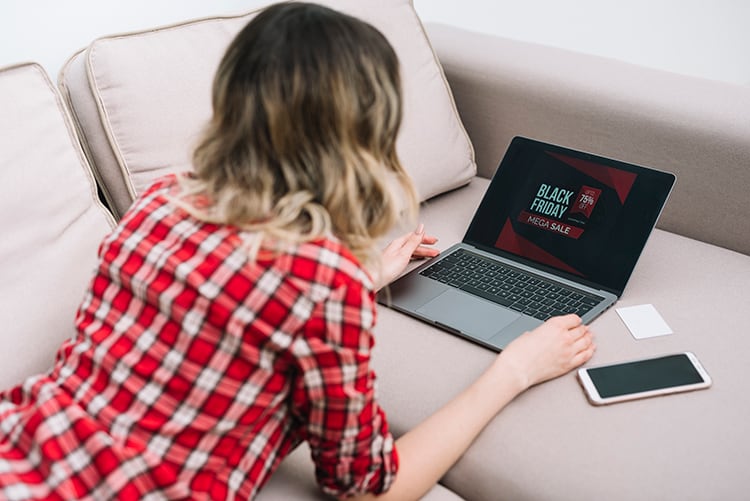 To some extent, Black Friday activity may be starting earlier given the supply chain disruptions that made it difficult for some brands to fulfill orders in 2021. Some retailers were also trying to balance the surge in cross-channel activity between eCommerce and welcoming back shoppers to physical stores.
Overall, consumers in the U.S. spent a total of $8.9 billion on Black Friday 2021, but research indicates there is plenty of opportunity for companies with a strong Black Friday marketing strategy to win over new customers.  52% of Black Friday 21 shoppers were first-time buyers – in other words, they were trying out a brand for the first time. In terms of converting those customers into repeat buyers, apparel was the sector that proved best able to recapture buyers from earlier in the year.
How to use the data to develop better Black Friday advertising ideas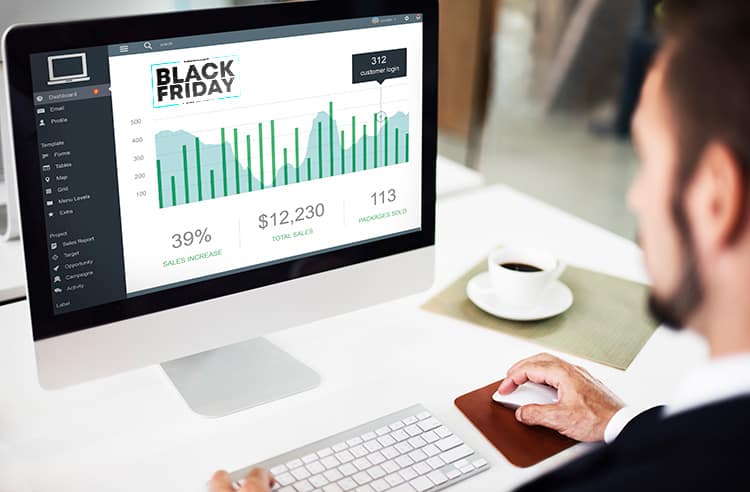 Don't think of Black Friday as simply a way to drive revenue. Success comes from recognizing it as an opportunity to offer real value to customers.
This not only includes the pricing on items you offer. It's also about making it fast and easy for customers to find the deals you're offering, understand what makes your brand different, and how well you know their needs. By focusing on building stronger connections with your customers and the experience you bring them during a moment like Black Friday, you'll be in a better position to entice them to make purchases and capitalize on the sense of urgency they already feel.
Among many Black Friday advertising ideas you might find online, your Black Friday Checklist should also cover the following activities:
1. Leverage Social Commerce
Yes, consumers are shopping online, but not just by going directly to brand websites. They get inspired by the styles they see while scrolling through platforms like Instagram, Facebook, and even TikTok.
More than a third or 36% of consumers will be looking for Black Friday deals on social media.
Social media marketing can include content you post on your own branded accounts, but consider looking at your referral traffic as well as third-party benchmarks to determine the channels your target audience uses most. Then, develop an ad campaign that ensures maximum reach and conversion through targeted social media marketing.
2. Gain Visibility on Price Comparison Sites
Given the increased costs they face for everyday items amid rising inflation, consumers are probably approaching this holiday season with caution. They are also increasingly savvy about the competitive nature of retail and know that doing a little extra online homework could help them get more value for their money.
This explains why 40% of consumers globally look at price comparison sites to check for the availability of the items they're considering. Pricespy, PriceRunner, and Idealo are all among the most popular destinations in this category.
While some price comparison sites do their curation, directly integrating your product feed with them ensures you'll be among the contenders when shoppers come looking.
3. Boost Availability In Multiple Online Marketplaces
Though many consumers will no doubt make a return to physical shopping malls over the holidays, they're increasingly apt to look for a similar experience online. Almost half (49%) of consumers are making purchases from online marketplaces at least once a month, and 35% are doing so weekly. Amazon is just one example.
Think of using online marketplaces as part of your Black Friday marketing strategy as a way to grow and reach consumers that may not have been exposed to your brand before. The ability to integrate product feeds with online marketplaces is essential here, as it helps you to scale order management at every stage of the buying journey, including identifying fulfillment locations and handling returns.
4. Partner with a Retargeting Service
When consumers sit down to shop on Black Friday, they may navigate through dozens of sites in a sitting. That means they could easily miss a digital ad the first time around.
Fortunately, studies show retargeting can increase online sales by 20%. Perhaps even better, retargeting can reduce shopping cart abandonment by reminding consumers to go back and complete their purchases. Retargeting is usually among the services provided by third-party vendors, or sometimes directly as a service from channels such as Google or Facebook. Retargeting won't be effective, however, unless you've adopted product feed management solutions that ensure the quality and structure of your catalog data. Optimizing for factors such as the correct country, currency, and keywords will keep retargeting campaigns contextual and relevant.
5. Push Promotions through Google Shopping Ads
If you don't already have a Google Merchant Center (GMC) account, make this part of your list of Black Friday advertising tips and sign up for one.
GMC allows you to highlight particular products or styles for your most discerning customers through cost-per-click (CPC) Google Shopping Actions campaigns. This is yet another plank in an omnichannel retail strategy that could propel Black Friday sales
That said running Google Shopping Ads requires staying in compliance with Google's standards, such as not advertising products that are out of stock. Product feed management avoids these kinds of errors and helps contribute to a good rating from Google.
6. Appeal to the Neighborhood Crowd with Local Ads
Last year, 80% of consumers said they wanted to support local businesses as they planned shopping expeditions. This didn't just include paying an in-person visit to a retailer in their neighborhood. 70% said they were shopping locally either online or using a mix of online and physical browsing.
Be sure to include Local Inventory Ads in your list of Black Friday advertising ideas too. Optimizing landing pages and promoting only what is available nearby ensures customers aren't disappointed and can easily get the products they want without waiting a long time for shipping Product feed management helps here too, by promoting specific items within a particular radius, which means you're sending the most qualified buyers possible to your stores.
The Importance of Product Feeds
As with any peak period in the shopping season, Black Friday is a time you should be focused on your customers and their needs. Having to spend excess time manually configuring and adjusting product feeds gets in the way of that, and poses the risk of making human errors that damage your customer experience.
Black Friday can be an extremely busy time for retailers, which means no one can afford to have mistakes in product or catalog data. This is a moment to not only drive sales but create a positive impression that will bring customers back through the rest of the shopping season. Product feed management solves this by keeping your data continuously synchronized and tailored to the channel where your customers shop.
Prepare Your Black Friday Advertising Campaigns With Highstreet.io
Highstreet.io's product feed management solutions were designed with major events like Black Friday in mind. We make it easy to provide product feeds to any critical shopping channel while making sure pricing, inventory, and other data are properly displayed. This drives strong performance across digital channels and in turn, increased sales.
Give your Black Friday campaigns a boost with Highstreet.io. Contact us now to get started.