For consumers, Google's trademark search engine has become the most effective means of finding everything from luxury fashion to details about the weather outside. For retailers, Google Shopping Actions can be just as powerful in the ongoing search for new customers.
Originally launched in 2018, Google Shopping Actions reflects the fact that the company operates some of the most popular and immersive channels for consumers to discover content they love. This not only includes its desktop web site but its portfolio of mobile apps and even its voice assistant.
Google Shopping Actions is also centered upon the same principle that Google has applied to all of its products and services: that the ideal digital experience should be fast, effortless and that nothing should come between a customer and what they want.
What Are Google Shopping Actions?
Currently restricted to the U.S. and France, Google Shopping Actions provides a mechanism for retailers to advertise their products through Google Shopping Ads, provided they have a Google Merchant Center (GMC) account.
Much in the way consumers might browse through a physical store and ultimately buy something, Google Shopping Actions boosts the visibility of products online to drive eCommerce conversions. Features like a shareable shopping list, a universal shopping cart and saved payment credentials to allow instant checkout make the experience both quick and seamless.
Google Shopping Actions is based on a cost-per-sale (CPS) model because Google only displays ads organically when consumers demonstrate some kind of online behavior that suggests purchase intent. Retailers only pay once customers have made a purchase, in contrast to more typical cost-per-click (CPC) and cost-per-action (CPA) models. This means you can't spend more to win additional impressions as you might with traditional Google Shopping ads. However it can provide a clearer return on investment (ROI) as you manage your eCommerce marketing budget.
How Does Google Shopping Actions Work?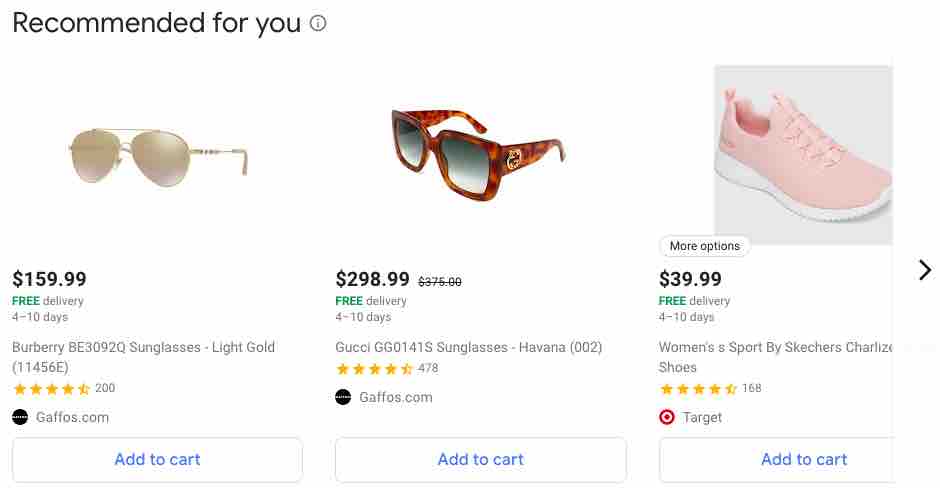 Google has made the process of getting products listed in Shopping Actions deliberately simple. You just need to log into your GMC, upload product feed data into your account and choose "Shopping Actions" as you set up a Google Shopping campaign.
Consumers will then be able to discover your products across multiple devices and buy from anywhere, creating a more fluid and flexible customer journey. The associated Google Shopping Actions Marketplace, meanwhile, allows you to sell and even provide customer support and manage returns directly through Google, without forcing customers to interrupt their online experience. This is similar to marketplaces offered by Amazon and others.
While Google keeps some of the technology underpinning Shopping Actions under wraps, it provides retailers with considerable data to manage their campaigns. This includes the ability to track inventory, configure tax and shipping settings as well as download invoices.
Commissions through this service range from 10% to 20%, and depend in part upon your Retailer Standards rating. Scored monthly, you can maintain good standing by having product feed management that ensures you're not advertising out-of-stock products, which can lead to higher volumes or order cancellations. Shipping items correctly and on time also contributes to your score.
Google Shopping Actions Signup Criteria
Whether selling in the U.S. or France, retailers interested in the program must be able to fulfill product orders locally, accept and receive payments and meet Google's standards for returns, delivery requirements, restocking and more. In France, for instance, retailers must be prepared to fulfill orders in five days or less, while those using the program in the U.S. need a local fulfillment and operations center as part of being a locally registered business.
Check with Google for specific guidelines, such as products and services that might be restricted in the U.S. Of course, participating in the program also requires compliance with other Google Shopping and Google Ads policies.
Is Google Shopping Actions Worth It?
Think of Shopping Actions as another pillar in developing an omnichannel shopping strategy to increase brand awareness and drive incremental sales.
The key difference is that selling online through Google doesn't offer the same direct relationship with your customer. You'll be limited to shipping information, given that Google's privacy policy prohibits sharing other contact details, such as e-mail.
Ultimately, using Google Shopping Actions can be a way of running your eCommerce business in a more customer-centric manner. Consumers are increasingly using mobile devices and even smart speakers to browse and make purchases. Successful retailers never overlook opportunities to show up where consumers want to find them, and Google sits at the heart of the digital journeys many of them are taking.
Get a head start on setting up your Google Shopping Actions feed quickly and easily by contacting our team today.