In the car, on his way home from the office, an executive suddenly remembers his wife asking him to pick up milk. At the doctor's office, a woman in the waiting room reads a recipe in a magazine and gets inspired. Just as his after-work basketball game wraps up, a young man realizes he has little left in the cupboard.
Although some grocery shopping begins with planning at home, many consumers decide to make a trip to their local store in the moment, while on the move. Local search ads, much like local inventory ads (LIAs), are increasingly the way they decide where they'll go to buy their favorite foods.
What are Local Search Ads?
When consumers search for a term like "grocery store," there are any number of brands that might show up in results based on the search engine optimization (SEO) quality of their content. In this case, however, consumers want the most relevant suggestions, which means identifying grocery stores nearby. This is where local search ads can help.
Using location extensions within Google Merchant Center (GMC), for example, local search ads ensure that Google will run the ads above more general search results and even provide directions to minimize the time spent traveling to get to a grocery store.
Benefits of Local Search Ads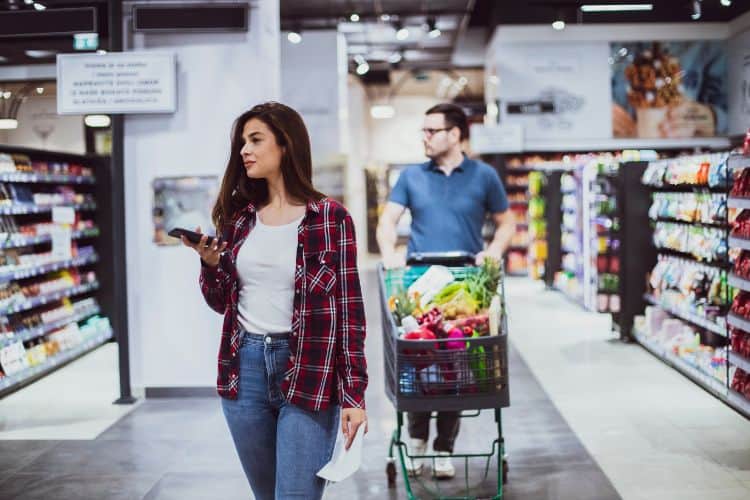 Consumers are becoming more thoughtful than ever before in where they grocery shop. This is in part due to rising food costs, but also because they know they can quickly compare multiple brands at once with a quick search on their smartphones. As a result, greater competition has been a rising trend across the grocery sector.
Local search ads on Google Maps can make sense as a response to this trend because they focus on the convenience of shopping for groceries at the nearest possible store.
Other benefits include:
A more effective use of your digital advertising budget: While other marketing tactics could nurture customers over time, local searches are often tied to more immediate purchase intent. This can mean a greater return on investment (ROI) for pay-per-click (PPC) campaigns.
More data for analysis and insights: Tracking the path to purchase from local searches to in-store visits can help you see opportunities to optimize your website and other aspects of the digital experience you're delivering to potential customers.
Details that drive decisions: Consumers don't just need to know which stores operate in their neighborhood. They also want to ensure they don't show up when a store has closed, or whether it offers more than one way to get the items they want. Local search ads on Google Maps provide plenty of room to include particulars such as store hours and whether they offer delivery or in-store pickup.
Google Local Search Ads vs. Local Inventory Ads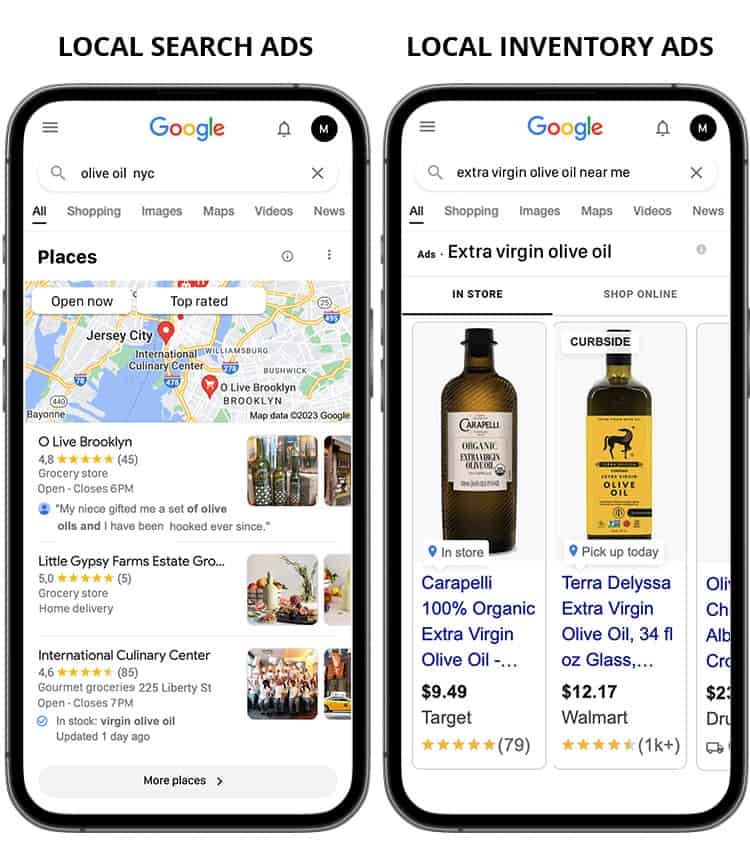 Grocery stores aren't limited to local advertising campaigns based on search ads alone. Successful brands also take advantage of local inventory ads (LIAs), which provide even more granular specifics about a brand's products to help customers shop.
Instead of a generic search for "grocery stores," for example, consumers might be shopping with a special ingredient in mind. A Google LIA could highlight that ingredient – whether it's a kind of bread, a sauce, or a cut of meat – to confirm it's in stock at a nearby location.
This goes a step further than Google business ads that are based on a grocery store's Business Profile (formerly Google My Business). Instead of simply verifying a business is operating and listing its store locations, a Google LIA lets you feature products that are part of an overall Google Shopping campaign by linking the Business Profile with GMC and Google Ads.
A Google LIA also requires having accurate, up-to-date data on your product availability, which is supported by a product feed management solution. This is why leading grocery brands like Carrefour have worked with Highstreet.io to help manage their LIAs.
Best practices for running local campaigns as part of a successful marketing strategy
A Google Local Inventory Ads can work hand-in-hand with Google Local Search Ads to provide the kind of immediate, comprehensive information consumers want and expect. Make sure you consider the following as you begin exploring further:
How will seasonality influence customer needs?
Grocery stores know it's time to showcase turkeys in their stores as holidays like Christmas get closer, or to vegetable skewers when barbecue season arrives. Consumers may be increasing local searches amid these seasonal periods as their schedules get busier, so use the right ad tools to reach them.
What will drive long-term customer loyalty?
Customers will be grateful to find a local grocery store when they're in a pinch, but they may go out of their way to return if they can get a good deal. Think about how you could use local search advertising to boost the effectiveness of discounts and other promotions.
Where will the customer journey take people?
Consumers may prefer to not only search online but buy that way too. Enabling e-commerce options provides greater flexibility and can be highlighted as part of local advertising campaigns. Don't stop there, though: think through whether customers will shop locally because they want a shorter distance for shipping, or whether you should offer in-store or curbside pickup. If they come in-store, strive to offer personalized campaigns that can build a unique and emotional connection with your brand.
Take the next step with local advertising campaigns
If you haven't already, set up your Google Business Profile so that it can be easily connected with GMC and you can begin leveraging location extensions in search ads.
Much like the products you're advertising, meanwhile, your business is likely in a state of constant change. You can avoid the risk of outdated or incomplete details in your profile by connecting with a partner like Highstreet.io which specializes in business listing management. This includes curating, optimizing, and distributing all the data necessary to rise in search rankings and gain more search traffic.
When it comes time to pair local search ads with a Google LIA, work with a partner like Highstreet.io to allow inventory data to be updated easily and consistently, while also taking away the manual effort that can otherwise put a strain on your resources.
Grocery stores are the ultimate example of the kind of local business consumers depend upon. Make their lives easier and grow your business by connecting with Highstreet.io to make the most of search advertising.