When your business is primarily focused on physical stores, you might have locations with top addresses such as "New York, NY" or "Miami, Fla." As more brands discover the critical importance of eCommerce as a sales channel, however, the most viable location might simply be "online marketplace, USA."
According to data collected by eMarketer, for example, USA marketplaces will grow by more than 10% in 2023 to nearly $385 billion. This represents more than a third of total retail eCommerce sales. That trend is expected to continue over the next five years, when the rate of U.S. marketplace growth will surpass 12%.
Expanding sales into online marketplaces in the USA can help you reach a broader audience, increase product visibility, and significantly improve your sales.
While many brands are already familiar with the biggest USA marketplace players, it pays to do your research. Depending on how you set up your products and promote them, there's a whole world of untapped potential to reach consumers that might never have discovered your brand otherwise.
Online Marketplaces in USA: The Top Choices
Online marketplaces in the USA continue to grow, and so does the vast competition. The oversaturation of retailers existing within a marketplace can present some daunting barriers to overcome.
That's exactly why many retailers and distributors have started taking matters into their own hands by building their USA marketplaces.
As a result, they have been able to diminish and offload shipping costs, streamline the product assortment process and strengthen supplier relationships.
The biggest benefit of this strategy is that, with multiple product options now being consolidated, customers have a single eCommerce destination, and therefore can enjoy a much simpler, unified shopping experience.
Let's take a closer look at some of the top online marketplace USA options where you can start selling your products, and how a marketplace integrator can help you streamline the integration process.
Amazon

Amazon Marketplace U.S. is not only the most recognized U.S. marketplace, but boasts some of the industry's biggest numbers. These include 310 million active users (80% of whom are based in the U.S.), an estimated two billion web visitors a month and more than 600 million products.
On the flip side, there are also more than two million sellers already using the Amazon as an eCommerce channel, and about 1.1 million of them are specifically using the company's online marketplace in the USA.
Selling on Amazon generally happens in a number of ways. Traditionally, sellers could opt for the Vender Central or wholesale approach, where products are sold in bulk to Amazon. While this is a straightforward way to get your products listed, it means you're losing any control over  the final price of customer lists.
Fulfillment by Merchant (FBM) means you'll handle logistics and delivery yourself. You'll either need to have strong in-house logistics capabilities or another partner that can meet the requirements of Amazon's service levels. These include selling products on time, an order cancellation rate of less than .5% and adherence to Amazon's return policy. FBM means fewer Amazon fees and more control over your inventory, but also greater responsibility and focus on getting products to customers rather than marketing and selling to them.
Fulfilled by Amazon (FBA), on the other hand, means the company will not only list your products in its USA marketplace, but handle storing, picking, packing and shipping your products. Choosing FBA means you benefit from Amazon Prime shipping rates, can have products featured on the Buy Box where customers see "Add to Cart" or "Buy Now" and Amazon's customer service capabilities. The downside? There are fees associated with this, of course, so calculate your return on investment (ROI) for both options before deciding.
Amazon sells many of the products in its marketplace itself, of course, which means you have to approach it strategically.
Some best practices include: 
Enroll in the Amazon brand registry, which offers tools to protect your intellectual property and improve your customer experience
Once you've enrolled in the registry, explore tools such as Amazon A+ Content (previously known as Enhanced Brand Content, or EBC), which allows you to include additional product information and images to your listing and make them more compelling for eCommerce shoppers
eBay

With 133 million active users, eBay is another of the online marketplace USA giants. It's also a good example of how online shopping behavior is shifting from desktops to smartphones. In fact, 58% of sales on eBay's U.S. marketplace happen on mobile devices. The company also boasts 18 million sellers, which range from everyday consumers getting rid of junk in their attic to sizable retail brands.
Selling on eBay's U.S. marketplace means bearing in mind the various fees that are associated with the process. This includes insertion fees for listing products, "final value" fees once a product sells and optional fees to upgrade listings such as bold fonts, subtitles and a minimum/reserve price.
To sell on eBay, you'll have to adopt its proprietary managed payments system, where revenue payouts can be scheduled or made on demand.
Like all major USA marketplaces, eBay continually tries to improve the seller experience. Some of the most recent updates include tools to resolve payment disputes and block inappropriate messages, for example, as well as dynamic ad rates for promoted listings and ad rate forecasts.
Integrating with eBay's USA online marketplace can work as follows:
Have your developers choose eBay's Inventory API or Trading API to create or revise a product listing and match your product to those in the eBay catalog
Include whatever product details are necessary based on the eBay product category. Common attributes to all categories include Title, Identifiers, Description, Product Aspects and Stock Photos.
Use a search call within the Catalog API to find products that match those within your online inventory.
Walmart Marketplace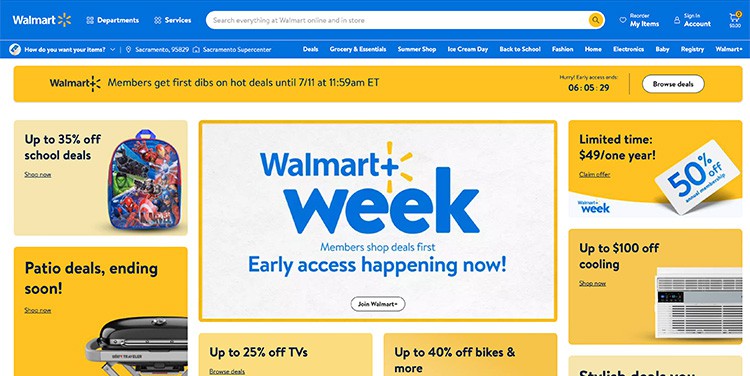 It may be best known for its vast physical store locations, but Walmart's online capabilities have made it a huge eCommerce destination as well. In its most recent seller playbook, Walmart said sellers on its online USA marketplace have see gross merchandise value (GSV) skyrocket by an average of 50%. This could be because 85% of Walmart customers make at least one online purchase a month, according to the company.
Walmart tries to help brands on its online USA marketplace stand out through Sponsored Search Ads, and like Amazon it offers fulfillment services to handle many of the common post-purchase chores.
Since it works on a commission basis, Walmart Marketplace doesn't charge initial setup or monthly/annual fees. It also offers what it describes as lucrative referral fees. The bar for getting on board as a seller is higher, however. Its criteria includes a demonstrates "history of marketplace of eCommerce success," a catalog that's in compliance with its prohibited products policy and proof you're working with a B2C warehouse if you don't use Walmart's fulfillment services.
Integrating with Walmart Marketplace can take a few forms:
Use a third-party online marketplace USA solution provider, a selection of which Walmart has curated on its marketplace site
Manually search for Walmart's Item Management APIs and have your internal developers test with the provided XML Schema Definition in Walmart's API sandbox.
Set up a profile on Walmart's online Seller Center and try using Setup By Match, Single Item or Bulk Upload Setup
Target Plus™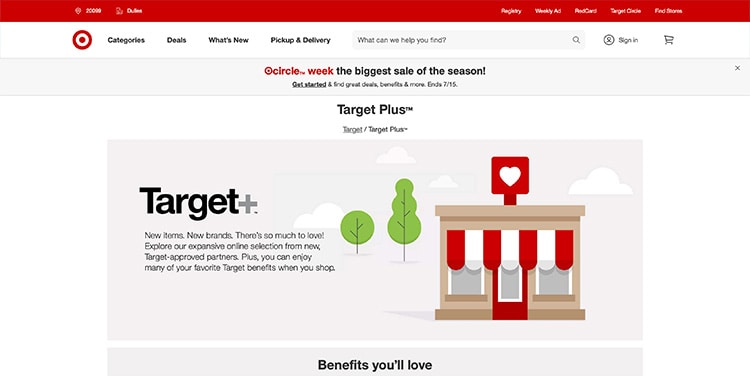 Target Plus™ operates as an invite-only marketplace, making it an exclusive space for carefully vetted brands and retailers. By being part of it, you have access to a wide audience of online shoppers without having to worry about the burdensome competition that a brand would experience with other marketplaces like Amazon. As of 2023, Target's U.S. marketplace has only about 650 sellers, which may make it less competitive than other platforms. Target also enjoys 200 million visits a month on its site, which represents a sizable customer base.
This is an invite-only platform, which means you have the added benefit of SKU exclusivity, allowing a more strategic product assortment for the most value.
Integration with Target Plus™ platform:
Use FTP or API to upload your products.
A third-party integrator can manage product and inventory updates, as well as Target Plus™ product orders, to seamlessly and effortlessly connect you with its default marketplace side integrator.
What you'll get?
Reduced backorders and oversold items
Some third-party integrators have marketplace inventory rules that can help reduce backorders and overselling issues.
Improved reach with a credible brand
Additional capabilities improve customers' ability to find your products, and increase overall exposure and reach while reaping the benefit of being backed by a credible and established American brand name and identity.
Belk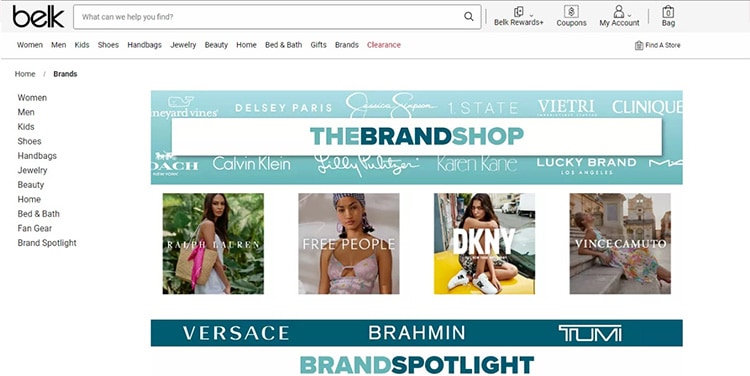 Belk is an established, popular chain of department stores throughout the US that offers apparel, cosmetics, and home goods, and garners over $4 billion in annual revenue. As of 2023 it also sits at No. 7 for eCommerce an online marketplace USA ranking, with 15.2 million estimated monthly visits. With these figures, it's easy to understand how beneficial it can be to integrate with this marketplace.
Integration with Belk:
Product listings
When integrating with Belk, you are required to submit your products in the form of an Excel file. Alternatively, you can use a third-party integrator to list your products, in the format of your preference. Their platform will generate the required Excel file and submit it on your behalf, saving you plenty of time in the process.
Order shipment requirements
Belk is known to have strict order shipment requirements; If a shipment is not made on time, you will be penalized. When you submit order shipment data to a third-party integration platform, and if you have multiple marketplace integrations, the shipment data can easily be scaled – providing a uniform and consistent shipment language across multiple marketplaces at once.
Order side synchronization
Thanks to its versatile transformations, some integration solutions can make order side synchronization highly effective and simple, being able to use multiple file formats, including XML through shared folders. With this feature, you don't need to worry about exporting certain file types or working with unfamiliar formats, as the platform handles it all ensuring consistency throughout all communications.
Frequent product updates
Product data updates will take place as frequently as once a day, while inventory can be updated hourly, meaning you can rest assured knowing that your product listings are always up-to-date.
Macy's & Bloomingdales

Macy's and Bloomingdales both have strong brand recognition and both focus on fashion apparel. These luxury department stores recognize the creativity in retailing and use their creativity to strengthen vendor relationships. Partnering with Macy's and Bloomingdales means diversifying your customer base to include a loyal, prestigious clientele.
Retailers who offer luxury merchandise at competitive prices can greatly benefit from the integration with Macy's and Bloomingdales.
A leading integration solution can help with the whole process. Here's how:
Side integration
Macy's and Bloomingdales use the same marketplace side integration solution as Belk, which seamlessly integrates with multiple order management systems. Integration platforms can facilitate the entire data feed submission process, inventory update process, and every other aspect of the integration process on the back end by using any file format, including XML. This means more time saved on an otherwise manual process and the reassurance of having accurate product data
Frequent updates
Using standard data feeds, product data and inventory updates are done frequently and completely handled on the back-end, without the need to get you involved. Product listings are always up-to-date so that your customers are faced with the correct information during their shopping experience.
Sell More Products with Marketplace Integration

Leveraging the marketplace model has normally meant having to handle two different levels of integration: product catalog integration to cover your uploads and inventory management data, and order management integration to connect fulfillment and returns-related data.
A Marketplace Integration Service can help you ensure your product catalogs are being uploaded properly while saving time and effort.
Benefits of Marketplace Integration with Highstreet.io
As a single unified platform,  Highstreet.io allows you to centralize your marketplace integrations, eliminating the need to create multiple, separate workflows for each marketplace.
The platform only requires a single workflow that is scaled up to various marketplaces and handles every aspect of the integration process.
In practice this offers brands considerable competitive advantages, such as:
Smooth Drop shipping Data Integration
Easily synchronize your marketplace orders from different marketplaces through dropshipping data integration. With Highstreet.io,  your marketplace orders are connected with all of your marketplace's backend order systems.
Simplify order management
Streamline your order details and real-time analytics of order statuses with our robust order management platform. You can view all of your marketplace orders in a centralized dashboard as well as a more detailed view of specific orders from each marketplace.
Reduce listing errors
Get full insight to catch listing issues before they impact your sales.
Through detailed product views, the Highstreet.io platform helps you verify a product's synchronization status with a given marketplace.
It also allows you to :
Speed up product listing process
Simplify how products are listed on multiple marketplaces, markets, and brands. To accelerate the product listing process, our dedicated onboarding team uses unique integration techniques with APIs or feeds.
Reduce overselling and backorders
Backorder and overselling issues are addressed through the platform's inventory redistribution.
Easily handle Promo events and sale pricing
All promotion and sale pricing are easily set up, managed, and tailored to meet your requirements thanks to the dashboard flexibility.
The right online marketplace USA strategy should allow you to grow revenue faster by targeting a larger base of customers through an established program run by a retail brand that many people already recognize. You're also giving customers greater choice on where to shop, and simplify their purchasing by offering your products alongside others they're ready to buy.
Contact our Marketplace Integration Experts for more information.