The top online marketplaces are often where fashion-savvy shoppers look for the next addition to their wardrobes first, and with good reason.
Influencers may inspire purchases via "Get Ready With Me" videos on TikTok or Instagram that link to a top online marketplace. When time is in short supply, consumers may also find it faster and easier to browse a top online marketplace for clothing and accessories rather than visit one dedicated brand site after another.
For sellers, meanwhile, online fashion marketplaces can be extremely valuable as they can help increase sales – as long as you choose the right ones to feature choice items from your product catalog. As a worldwide survey revealed, 70% of shopper see marketplaces as the most convenient way to buy and 66% prefer sites that have them.
Another recent research study found the USA, Europe and India are among areas where consumers show the greatest interest in online fashion marketplaces, but it's truly a global phenomenon.
In this post, you will discover how sellers rely on online marketplace integrations to increase product visibility across marketplaces, to build a successful omnichannel strategy.
What Should You Know About Online Marketplaces in 2023
While many consumers are returning to physical stores, the experiences of the past few years have changed shopping experiences in lasting ways. Some of the biggest trends that will dominate online fashion marketplaces in 2023 include:
Multimedia shopping options: Images and text are not going away, but some sellers are innovating with the use of video to display their products on marketplaces, as well as offering augmented reality (AR) to visualize products in your home.
More ways to pay: Large brands like Apple and Samsung have already created their own digital wallets. Expect to see more from fintech startups and even options that make use of cryptocurrencies.
Generative AI for customer service and search: The rise of tools such as OpenAI's ChatGPT means consumers will experiment with new approaches to finding their next products, as well as getting answers to common questions more quickly and easily.
Top Online Marketplace Sites for Fashion Brands
If you're a fashion brand looking to sell globally, here is a list of some of the top online marketplaces with considering today: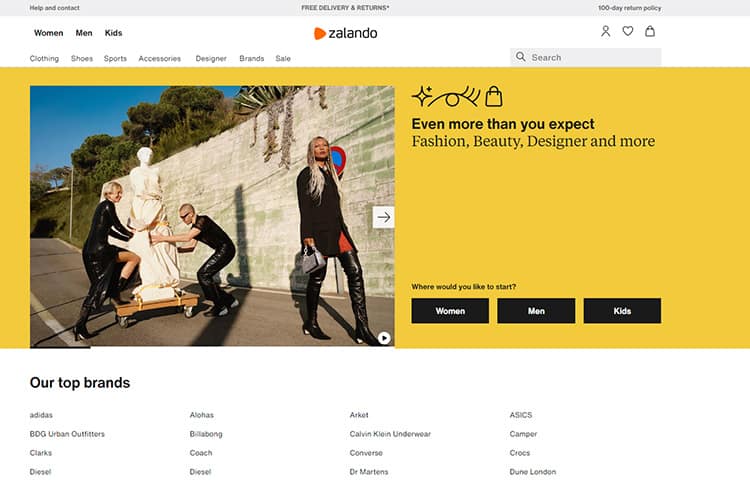 Based in Berlin, Germany and focused on shoes, fashion and beauty, Zalando represents one of the largest online fashion marketplace options in Europe. The average median price on the site is $48 and it achieves an average of 380 million views per month. Though the competition could be considerable – Zalando carries more than 2,000 brands and men only account for 31% of the audience – it encourages visitors to shop across multiple categories as part of its Plus loyalty program. This has led to a 6% increase in customers to more than 5,100 as of March 2023.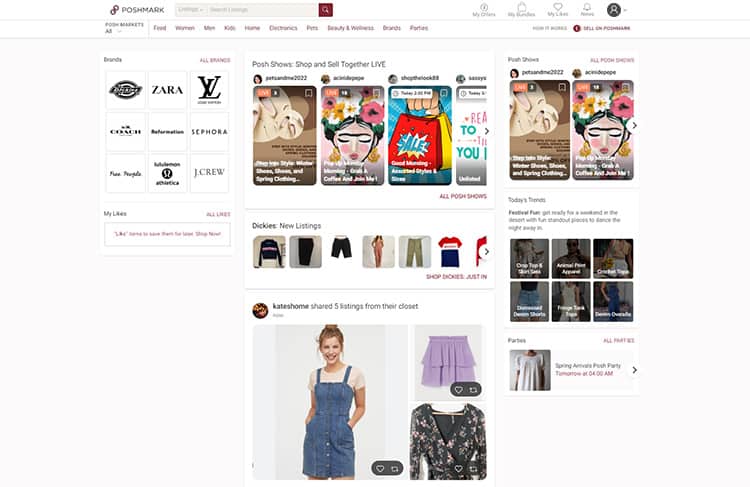 Acquired by South Korean Internet company Naver in early 2023, Poshmark is an online fashion marketplace best known for its app, which makes it easy to buy as well as sell new or used clothing. Poshmark provides an ability to connect with customers across North America and is defined by a customer experience based on simple shipping and no listing fees.
That said, Poshmark raised its shipping rates in February 2023, which is on top of the 20% it takes off of every purchase. This could be offset by other benefits, such as Poshmark's reputation for promoting sustainability and its customer support.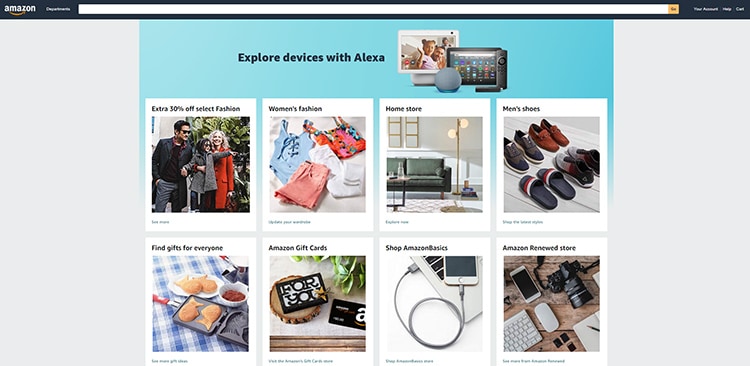 The Seattle e-commerce pioneer has come a long way from its roots as a digital bookseller. Amazon now allows sellers to tap into a huge existing customer base with a digital experience known for being easy to navigate and use. This has made it a popular option for North American and European brands, albeit a highly saturated one with many white label and knockoff brands.
Sellers also need to consider Amazon's reach alongside reports that its fees and other costs mean it now takes a 50% share of revenue on products sold through its marketplace.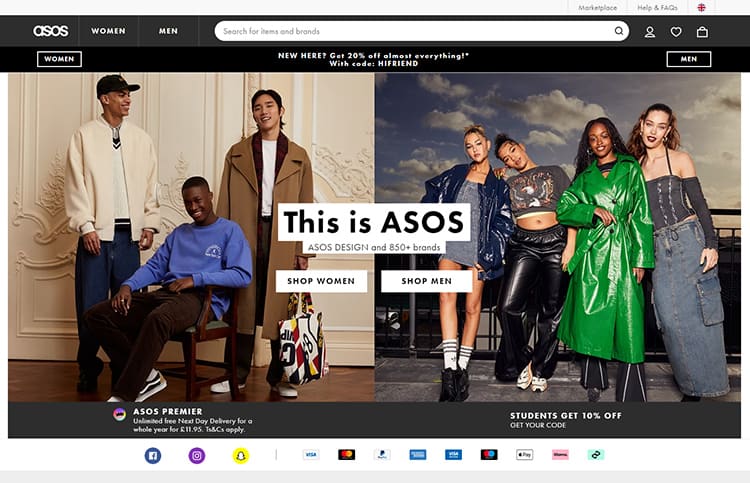 Founded in London as the new millennium dawned, Asos focuses primarily on young adults and in 2010, it launched its ASOS Marketplace to showcase the best fashion startups. The ASOS Marketplace now includes more than 900 boutiques from more than 150 countries. This includes both independent brands and vintage clothing brands.
The average cost of clothing on Asos can be as low as $26, which means it is less known as a online fashion marketplace for luxury items. However the Asos name is becoming much better known outside the U.K. thanks to investments in its retail media network.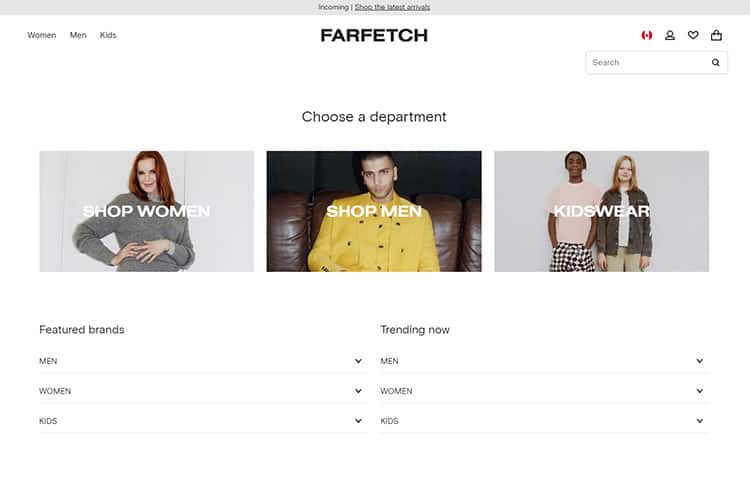 Headquartered in the U.K. but with a considerable presence in Portugal, Farfetch offers luxury shoppers products from more than 700 global boutiques on its marketplace. This includes apparel for all genders.
Farfetch may be in a more defined luxury niche, but it shows every intention of being a leader within it. Over the past year, for example, Farfetch went through an internal restructuring which led to the creation of a new role, Chief Marketplace Officer. This will provide a single point of accountability for sellers looking to grow on its platform, the company has said.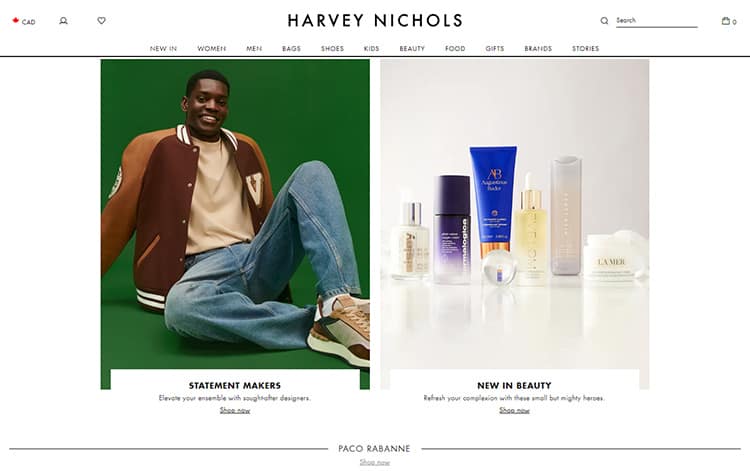 This is an online fashion marketplace whose history stretches back to the 1830s, when Harvey Nichols was launched as a luxury department store in Britain.
Now owned by Hong Kong's Dickson Concepts, Harvey Nichols is known for offering designer fashion for both men and women, as well as accessories. The caveat is that Harvey Nichols' marketplace strategy is based on a partnership with Farfetch, rather than its on proprietary approach.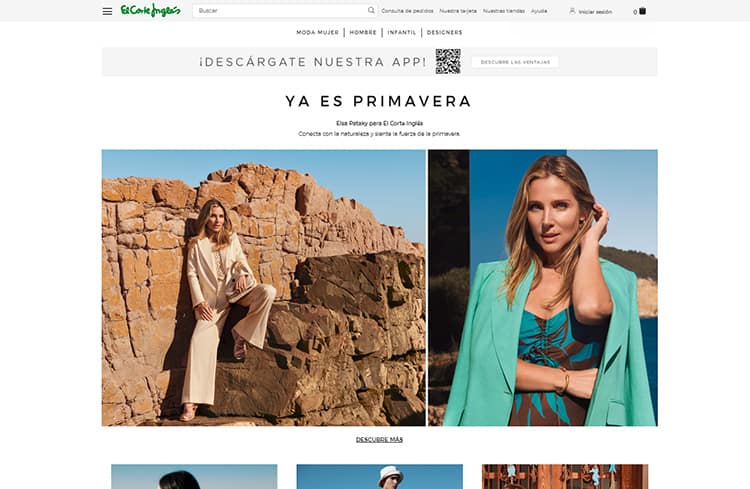 It's already the biggest department store chain in Spain (and the third largest worldwide. Now El Corte Ingles is quickly proving itself equally popular online. Its marketplace was recognized in a 2022 research study as one of the most popular platforms where Spaniards shop, alongside giants such as Amazon.
More recently El Corte Ingles announced a series of customer-facing enhancements to its digital shopping experience, including automation to reduce costs and artificial intelligence to present more relevant offers to fashion-conscious consumers.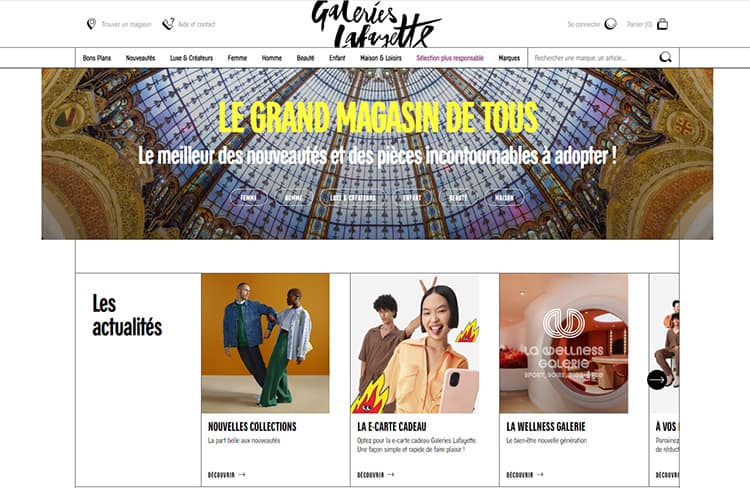 In Paris, Galeries Lafayette Haussmann has been known as "the world's department store." For those shopping on their desktops and mobile devices, through, the company's truly global presence is through its marketplace, which complements 30 physical stores across France. The company's website attracts more than 5.4 million visits each month.
Since its launch several years ago, the Galaries Lafayette marketplace has offered shoppers more than 70 additional brands and more than 60,000 SKUs. In 2022 the company also expanded its digital presence by taking over the physical and online sales of La Redoute.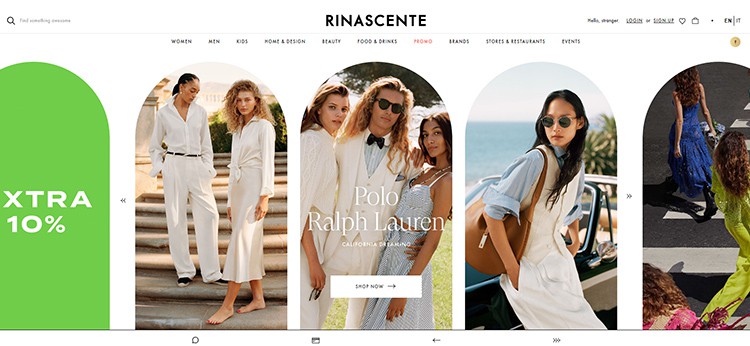 Though its move into omnichannel e-commerce only got underway in earnest about two years ago, Milan's Rinascente started with a bang, featuring more than 15,000 products from approximately 650 brands. This was followed by its online fashion marketplace offering opportunities for third-party sellers. Rinascente is more focused on the Italian market, though its Rinascente On Demand service offers international access to its full assortment.
The Takeaway: Sell Everywhere With Marketplace Integration
The benefits of using online fashion marketplaces as part of your sales strategy couldn't be clearer. You can gain access to millions of customers, accelerate your global expansion and use them as a place to A/B test your marketing strategies.
Featuring your products on marketplaces, however, can take up considerable in-house technical expertise, and requires understanding the unique needs of each one. A marketplace integrator addresses that by providing a single application interface as part of a more unified approach.
This is why top eCommerce brands trust Highstreet.io marketplace integration service, as it helps them:
Avoid processing and invoicing issues before they become problems with our experts in marketplace integration logistics
Focus on selling what's in stock by automatically synchronizing your online store inventory as you receive orders with our platform
Ensure the right products are in the right categories with titles, descriptions, and other attributes using our product data optimization tools
Start Integrating your products with major marketplaces across the world. Get in touch with Highstreet.io experts to discuss the best strategy to reach your marketing goals.