Local Inventory Ads Service
Bring customers closer to your products to boost local sales
Request a Demo
Consumers' shopping time is evenly split between online and offline.
Connecting them at every touchpoint helps retailers to maximize their potential revenue. Show up when it counts and offer customers relevant search results on Google to turbo-charge both your eCommerce & physical stores growth.

Drive in-store visits
Capture customers' attention when they're shopping on mobile devices and increase footfall traffic.
Build customer trust
Promote products based on nearby availability and allow people to shop with confidence to encourage repeat purchases.
Boost sales
Adopt an omnichannel approach that gives customers choice and increases both online and offline revenue.
Enhance Product Visibility
Ensure your presence across Google properties when shoppers are searching for products like yours.
Increase Brand Awareness
Allow more consumers to discover your business and introduce them to your most relevant products.
Improve Customer Experience
Promote only locally available products to let customers know that you have exactly what they want, right when they're looking to buy them.
What are Local Inventory Ads?
Local Inventory Ads act as digital storefronts by showcasing detailed information about your products & store, allowing you to bring more qualified customers into in-store shopping.
Retailers with local stores can effectively advertise specific products & their inventory to customers searching for a product online, with the option to buy them at a nearby location or pick them up in the nearest store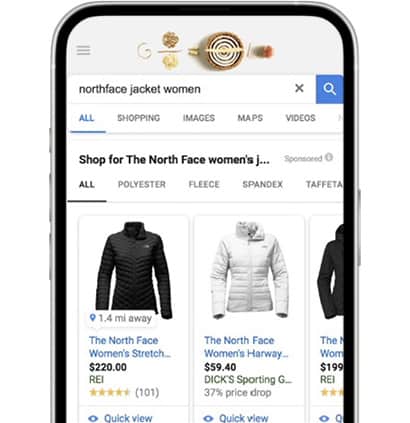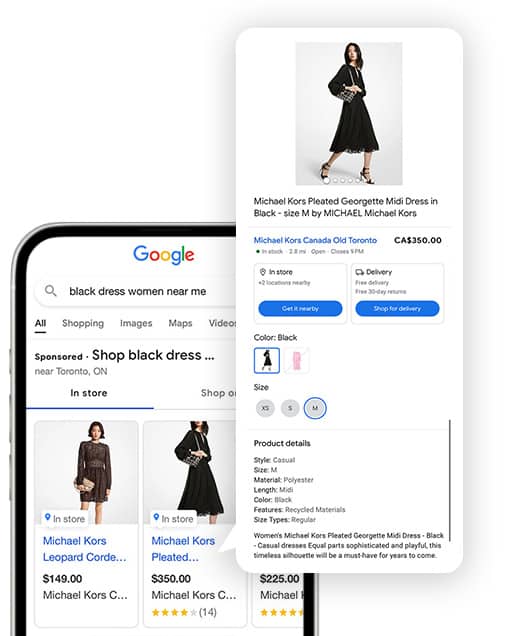 Feature product details, images, prices and other important information to get more customers to your stores and increase sales.
Local inventory ads ensure you respond with products that are in-stock and within proximity to the users' location as they search for products nearby.
Simplify the customer journey by answering the "near me" question
When customers are on the go, every second counts. That's why they ask Google to find "[This product] near me" when they search online. Local inventory ads ensure you respond with products that are in stock and within proximity, helping you achieve critical business goals.
Easily promote your store inventory
Let shoppers know you have the items they want, available in your local store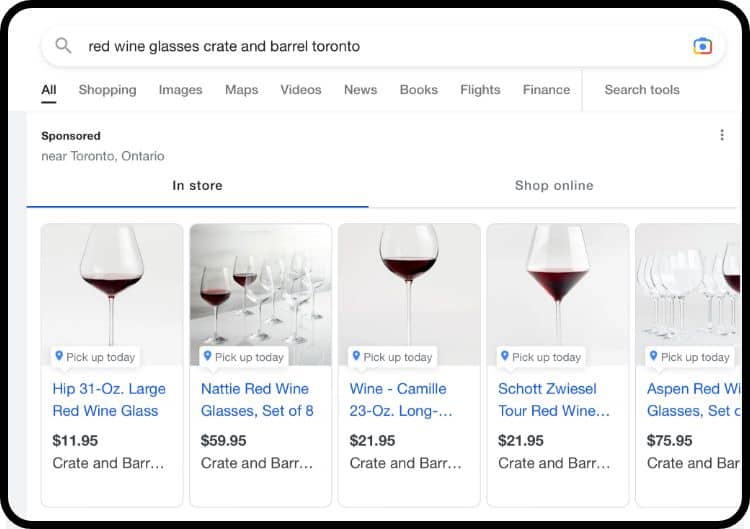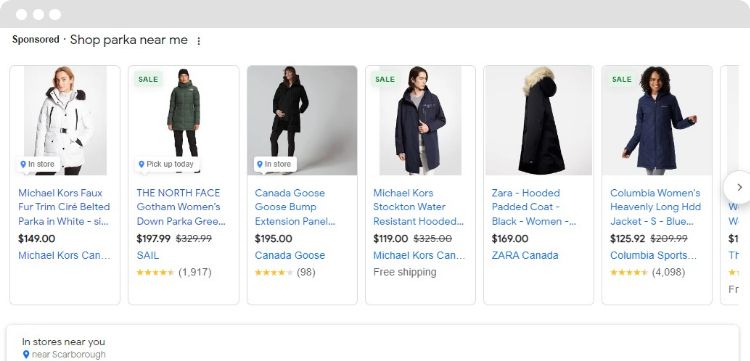 Amplify your customer's reach
Help local customers find you by boosting your highly detailed listings across Google.
Capture your total addressable market
Extend your visibility among customers that might otherwise get missed by targeting highly interested audiences at a local level.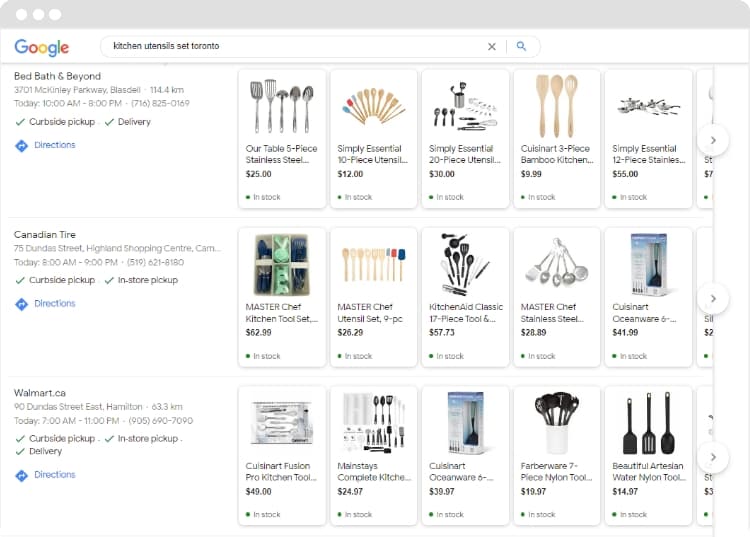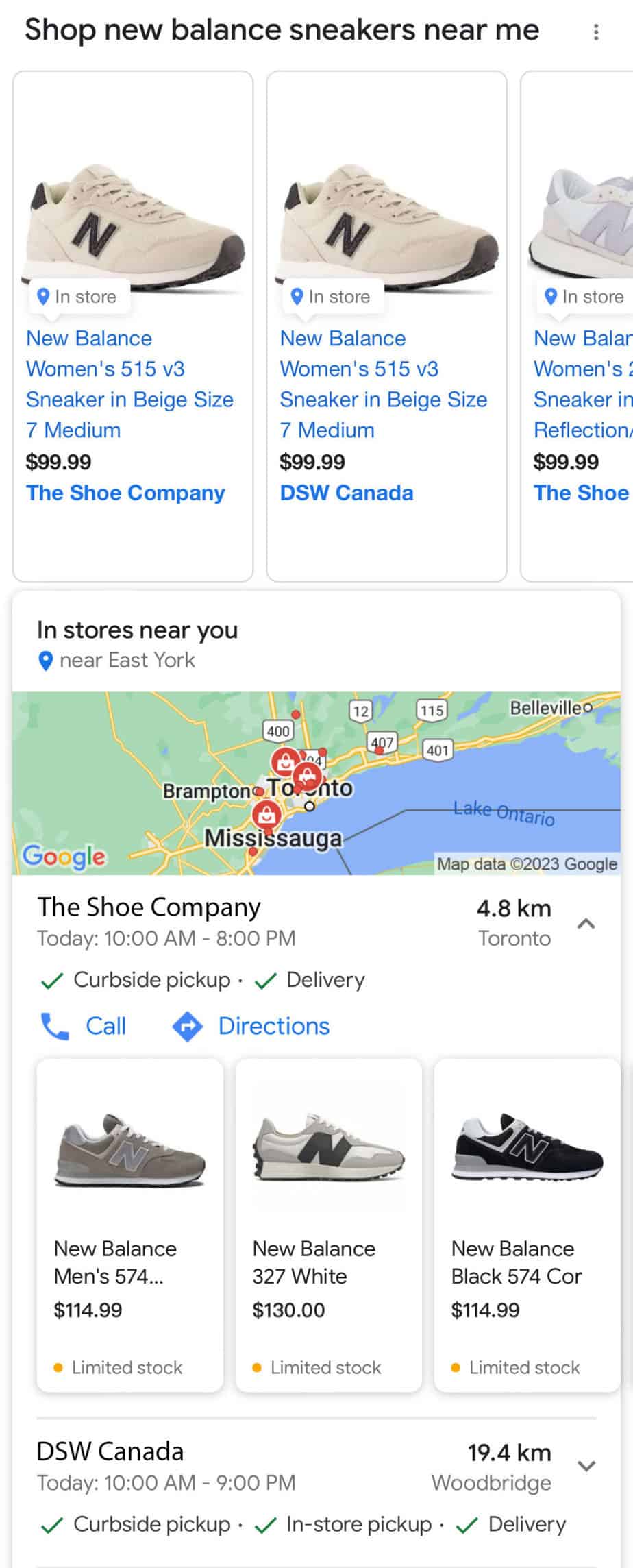 Balance supply and demand
Adopt a more profitable approach to inventory management by identifying what customers want, and where.
Improve campaign performance and measurement
Effectively monitor and track online to offline shopping habits to help you determine the true offline impact of your LIAs.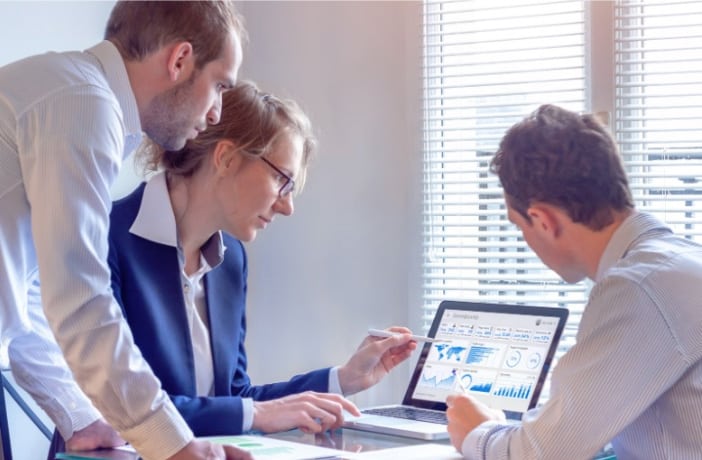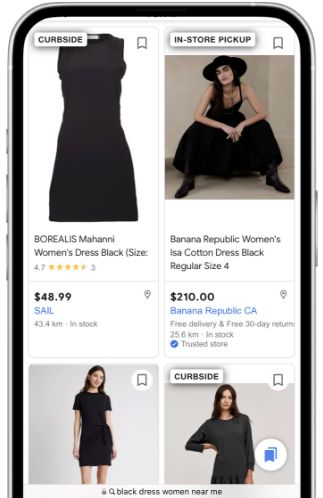 Enhance the customer experience
With options like on display to order, BOPIS and click & collect, customers can enjoy their preferred ways to shop
An efficient way to leverage high-quality data of all your products for better listings
Ensure your products show up only when and if available with frequent, accurate, real-time updates to inventory and catalog data
Easily tag location-specific keywords into product titles and descriptions that align with common search queries
Simplify managing your inventory, products, and store info, all in one place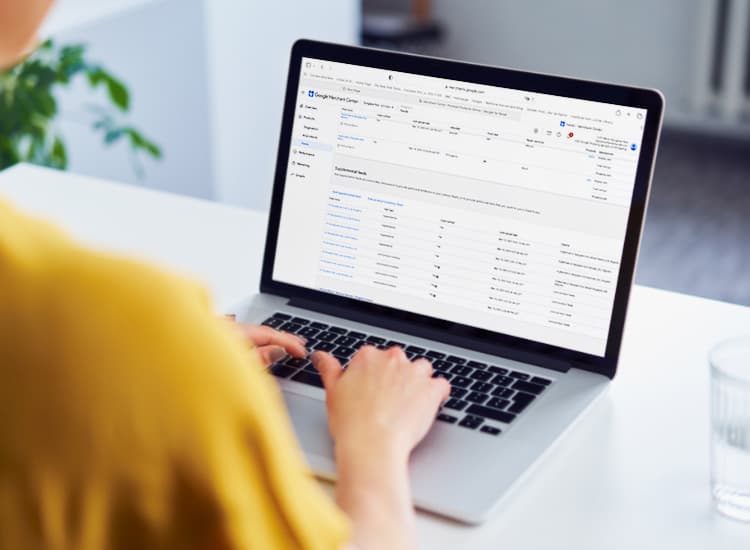 Local Inventory Ads Listing with Highstreet.io
As a longtime Google partner, Highstreet.io has the expertise and proven track record to help you maximize the growth opportunities LIAs represent.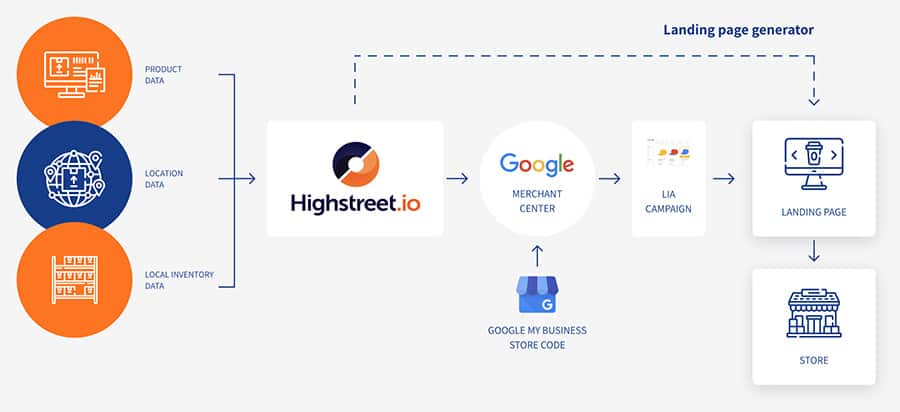 Connect LIAs with Google Shopping Ads for greater ROI.
Leverage strategies to promote the broadest possible range of products within a target radius for each customer.
Set up and manage a Local Storefront or work with a Google-hosted landing page.
Adopt a more dynamic approach to marketing based on frequent, accurate, real-time updates to inventory and catalog data.
What Our Customers Are Saying
"Highstreet.io has helped us in the activation of Local Inventory Ads services for products on our flyers by merging data from flyers with online product details and prices promoted in every single store, and then generating, optimizing, and delivering data feeds to GMC LIA folders. The Highstreet.io platform has been particularly flexible in adapting to the needs of specific Carrefour data configurations and has proactively supported us to enable LIA campaigns on Google."
— Maria Agata Anastasi
Digital Media & Marketing Manager - CARREFOUR
Embrace Local Inventory Ads With Ease
Showcase the right products where it counts by supercharging your local inventory ads.
250 Yonge St., Suite 2201,
Toronto ON M5B 2L7, Canada
Via Spagnole, 2/B
37015 Sant'Ambrogio di Valpolicella (VR), italy